Encinitas' Herman Cook Volkswagen,
Stellar Solar announce partnership
Herman Cook Volkswagen is partnering with Stellar Solar of San Diego to install a new solar system for the longtime Encinitas car dealership and develop an incentive program for customers who buy electric vehicles.
"We are thrilled to be making the move to solar," Connor Cook, Herman Cook Volkswagen general manager and co-owner, said in a Dec. 9 news release. "And to do it with a local company with such an established track record of success and expertise in solar, battery storage and electric vehicle connectivity was just a bonus."
Stellar Solar, founded in 1998, will install a 65-kilowatt system capable of producing enough power to offset the dealership's historical one-year kilowatt consumption, the companies stated in the announcement.
In addition to the installation, the companies are developing a partnership in which Stellar Solar will offer Herman Cook Volkswagen electric-vehicle buyers a package of clean-energy solutions that include solar, batter storage and connectivity to help power their automobiles.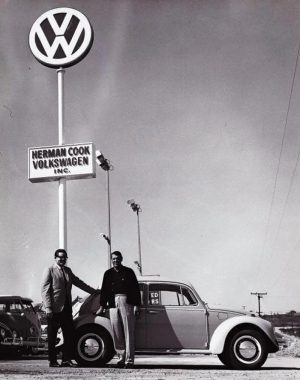 "I'm thrilled to be working with such an iconic North County family run business," Kent Harle, Stellar Solar co-founder and CEO, said in the news release. "Cook VW's history is rich in Encinitas and their growth has reflected that of the area. Going solar and offering our clean energy solutions to their customers is a perfect example of being on the cutting edge and offering what homeowners in the area are demanding."
The partnership is the first of its kind between such firms in San Diego County, according to the companies.
The family-owned Herman Cook Volkswagen has been in Encinitas for more than 50 years, built on a stretch of Encinitas Boulevard before much of the suburban community around it was developed. The company sponsors several local events, including the Encinitas Half Marathon and Turkey Trot.
---
Letters to the editor are welcome. Send letters to letters[at]northcoastcurrent.com. Follow the North Coast Current on Twitter at @nccurrent.
encinitas current, cardiff current