TrueCare food distributions
in Oceanside, San Marcos
TrueCare, formerly North County Health Services, has partnered with Feeding San Diego to provide free food distributions to those in need this holiday season, the nonprofit healthcare provider recently announced.
"Children and their families should not have to suffer from hunger because they are not able to afford a meal," Cheryl McMahen, TrueCare's director of community engagement, said in a news release. "Our goal is continuously to reduce barriers for our patients and community members. Our Food Distributions are a great way to serve the community and provide some food security and bring the food even closer to their neighborhood."
The nonprofit has locations in Encinitas, Carlsbad, Oceanside, San Marcos, Vista and Escondido.
Free food distribution is available to the public on the following dates:
Oceanside — Tuesday, Dec. 28, 11 a.m. to noon, at the Melba Bishop Community Recreation Center, 5306 N. River Road. Free food distributions will continue on the second and fourth Tuesdays of the month.
San Marcos — The first and third Wednesdays of the month from 11 a.m. to 12:30 p.m. in San Marcos at Rise Church, 1915 N. Twin Oaks Valley Road.
TrueCare reports that its partnership with Feeding San Diego has already delivered meals to more than 9,700 homes in the region this year.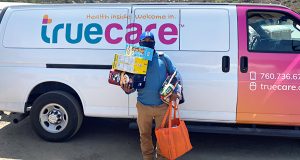 In addition, the nonprofit's community engagement team is helping local hungry families through programs such Women, Infant, Children (WIC) and CalFresh, as well as a diabetes box program and lunch distributions for children, the organization stated.
The nonprofit is using grant funds, including $40,000 from the city of San Marcos' COVID-19 Nonprofit Community Grant Program, to help provide food for agricultural workers and migrant seasonal farmworkers in the city who have been affected by the COVID-19 pandemic.
TrueCare's enrollment team is also helping residents in need with insurance, emergency rental assistance and healthcare.
The food distributions are set to continue into 2022. More information: Call 760-736-6777 or go online to truecare.org/programs-resources/community-programs/#food.
---
This news brief is published as part of the North Coast Current's In the Spirit holiday community coverage. Email fundraising, donation and event notices to currentevents[at]northcoastcurrent.com.
encinitas current, cardiff current