North San Diego Congress members back Ukraine but differ on path ahead
Congress members representing North San Diego County stood in solidarity across party lines in condemning Russia's invasion of Ukraine in the hours after the assault began.
While local representatives roundly criticized Russia's actions, they differed on the effectiveness of the White House and international response to the crisis. One local congresswoman said Feb. 26 that the U.S. and NATO should not implement a no-fly zone over Ukraine.
"Russia's invasion of an independent and sovereign Ukraine is a blatant assault on international law and shows a callous disregard for the loss of innocent life that will occur as a result of its violent attack," Rep. Mike Levin (D-49th District) said in a statement circulated soon after the conflict's start on Feb. 24.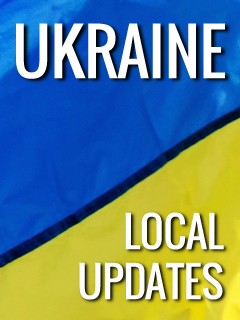 Levin, who serves on the House Veterans' Affairs Committee, said he still hoped for a diplomatic solution to the conflict and that he was confident the U.S. and its allies would hold Russian President Vladimir Putin accountable for the campaign.
The 49th District includes Oceanside, Encinitas, Carlsbad and Vista as well as a parts of southern Orange County, including San Clemente and San Juan Capistrano.
Rep. Darrell Issa (R-50th District) had similar sentiments but differed in opinion when it came to the response.
"This is a disastrous day for free nations everywhere and a direct assault by tyranny and aggression that will compel the world to take notice," Issa said in his written remarks as the invasion got underway.
The 50th District covers inland North County communities such as Escondido, San Marcos and Fallbrook.
Issa, who serves on the House Foreign Affairs Committee, criticized President Joe Biden and his administration, however, for not building a solid international coalition ahead of the action.
"This is also a defining moment for the Biden Administration, which has manifestly failed to bolster a coalition of allies and partners to keep and secure the peace," Issa said. "At this time, the credibility of this White House is on the line, and we need the kind of of leadership from the President that we clearly have yet to see."
Issa included NATO in his concerns as well.
"America and NATO are being tested. And at this moment, they are failing that test," he said.
Beyond North County, Rep. Sara Jacobs (D-53rd District) cited her recent trip to Ukraine with a congressional delegation in framing her perspective on recent developments.
"When I visited Ukraine with my colleagues last month, it was clear that the United States Congress and the Biden Administration — along with our NATO allies and partners — are united in our strong support for the Ukrainian people," Jacobs said in her statement. "As a Representative of a proud military community, my constituents understand better than most the devastating consequences of war."
The 53rd District covers areas of San Diego County to the south.
Jacobs, who also serves on the Foreign Affairs Committee in addition to the House Armed Services Committee, said she hoped that diplomacy could prevail in bringing an end to the crisis.
"Diplomacy does not stop when the shooting starts," she said. "In fact, that is when it is more important than ever. We have to continue to keep diplomatic channels open and look for opportunities for de-escalation and an end to human suffering."
In a follow-up statement on Saturday, Feb. 26, Jacobs said she did not support the idea of a no-fly zone over Ukraine.
"A no-fly zone might seem simple, even the bare minimum to save lives," she said. "But any consideration of a no-fly zone must include what this decision would actually mean. … The risks of two nuclear powers going to war are dramatically increased by a no-fly zone."
Rep. Scott Peters (D-52nd District), who represents Carmel Valley and areas just south and east of Solana Beach and Del Mar, had not issued a statement about the conflict in Ukraine by the end of the weekend.
encinitas current, cardiff current