Early-morning thunderstorms sweep across coastal North County
Early morning thunderstorms drenched coastal North San Diego County communities Friday, March 4, with some areas getting more than an inch of rain in just a few hours.
Encinitas led the county in rain totals, according to the National Weather Service's 24-hour reporting period from 5 p.m. Thursday to 5 p.m. Friday.
A line of thunderstorms came ashore at about 2 a.m., bringing the expected lightning and thunder as well as high winds, torrents of rain and some hail to communities from Del Mar north to Oceanside, and east to Vista and Escondido. After the line cleared, more heavy rain moved through around 8 a.m. The weather was the result of a low-pressure system that brought rain in varying amounts throughout the county.
North County communities recorded the following rain totals, according to the Weather Service's figures Friday:
Encinitas: 1.27 inches
Escondido: 0.74 inches
Carlsbad: 0.51 inches
Oceanside: 0.28 inches
Coastal communities Del Mar and Solana Beach as well as San Marcos and Vista inland recorded more than a half-inch of rain, according to LocalConditions.com, although some residential measurements recorded more than an inch in some locations.
Unstable weather is expected to remain over the county for a couple more days, the Weather Service stated. A high-surf warning remains in effect until noon Sunday. Rainfall chances will continue to hover between 30% and 40% through the end of the weekend.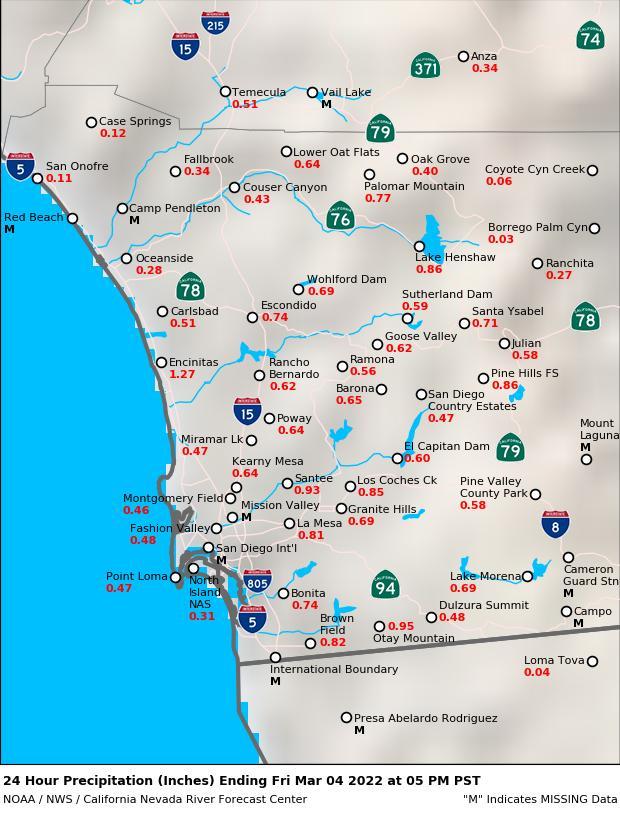 encinitas current, cardiff current