Mosca announces he won't run again for Encinitas City Council
Encinitas City Councilman Joe Mosca will not seek another term in office, he announced at the council's meeting Wednesday, March 16.
"After significant consideration and discussion with my family, I'd like to announce that I will not be seeking another term on the Encinitas City Council," Mosca read from a statement at the end of Wednesday's meeting. "I'm extremely grateful to my City Council colleagues and to the voters for the trust that they have placed in me to serve our community for almost eight years."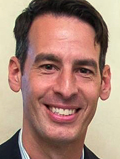 Mosca, who is presently serving in rotation as deputy mayor, served two years on the Parks and Recreation Commission before joining the City Council as an appointed member in January 2017. He filled a seat vacated by Catherine Blakespear when she was elected mayor, and he was then elected in 2018 to what became District 4, which covers portions of Olivenhain, Village Park and New Encinitas neighborhoods. A revised district map approved earlier this month retains the general communities of that seat.
"I've enjoyed every moment of the journey and I'm proud what we've accomplished together," he said. "We've made a difference for our community and for the communities of San Diego County."
The District 3 and 4 seats are up for election this November as is the mayor. Among the announced candidates for District 4 is current Planning Commissioner Bruce Ehlers.
Blakespear, the current mayor, is running for state Senate.
Mosca is also a former Sierra Madre City Council member. In October 2011, he resigned from that post one year into his second term.
encinitas current, cardiff current