Encinitas Spring Street Fair
a weekend of opportunity
North County artisans on hand for event's return
The smell of sweet and savory goods filled the air in Encinitas on April 9 and 10 as the chatter of people melded with singers, guitar riffs, children laughing, and dogs of all shapes and sizes barking their greetings to each other across Coast Highway 101.
Among the crowd watching Son of Kane perform at the Encinitas Spring Street Fair beer garden on Sunday, April 10, were locals Ashley and Nick Adkins, their dog, and their young daughter, Everley.
"It's nice to get outdoors, to feel normal again," Ashley reflected as they took their midday break.
It was a sentiment shared by many, including Sherry Yardley, president of the Encinitas Rotary Club.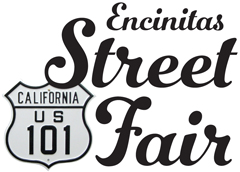 "It's a great feeling to be social and interact face to face," she said, explaining that the fair was an opportunity to share information on their upcoming events and activities — including the 19th Annual Encinitas Rotary Wine & Food Festival taking place on June 4 — and their goodwill efforts.
Despite a cloudy morning on Sunday, businesses and vendors said that there were plenty in attendance.
"(During the pandemic) Encinitas looked like it did 30 years ago," recalled Jim Hornung, who co-owns First Street Gallery with his wife, Linda Hornung. "This year is definitely better. We have noticed more people out and interested in things."
The fair, he noted, brings in locals as well as residents of surrounding communities and introduces them to the businesses of Coast Highway 101.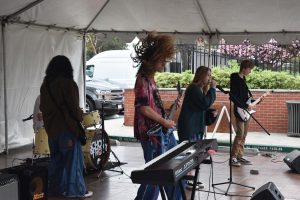 Curious onlookers became browsers, then shoppers, at some of the brick-and-mortar shops along the fair route.
Grateful for supporters who helped keep their business afloat throughout the COVID-19 pandemic, Bliss 101 owner Malia Bolen said the event is more than just a way to boost sales.
"Things like this help bring the community together," she said. "It's a huge benefit for Encinitas as a whole."
Teen sisters Tia and Talia, owners of TT3D, were promoting their eye-catching, colorful 3D printed dragon sculptures at this year's festival. After selling their first few — printed on their dad's 3D printer — to friends, the girls' parents encouraged them to sell more so they could purchase their own printer.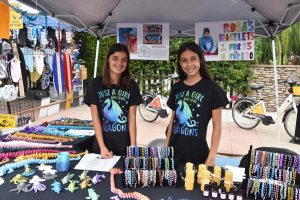 Now, they have several, which helps fuel their thriving Etsy shop.
"We're only nine weeks in, and we're doing pretty darn good!" shared their mother, Karen.
Tia said that the fair has also allowed them to sell some of the 1,400 bracelets they purchased from a young woman named Rosa, who they met on a Baja Bound service trip in Ensenada, Mexico, before the pandemic.
Fiona Valenty, owner of Fiona's Pottery in Vista, has been coming to the fair since childhood and said that this year she was finally able to see a longtime dream come true.
"This was the goal," she said. "To make it to the Encinitas Street Fair."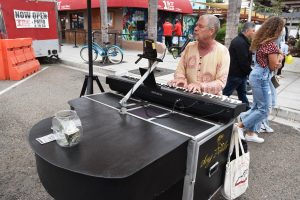 Starting with the craft in her senior year of high school in 2017, Valenty said that her business of creating handmade mugs, bowls, cases and other everyday goods officially began in 2020.
The fair also gave a voice to up-and-coming musicians, like students of the Encinitas School of Music.
Dan Roberts, vice president of the 501(c)(3) organization, said that it's about more than just performing songs. Each in-person opportunity gives them a chance to fundraise and practice their stage presence — an important element of any successful show.
And he added that being out at public events like the fair brings visibility to their organization, helping it thrive.
"They see us as being part of the community," he said.
Encinitas 101 MainStreet Association Executive Director Irene Pyun estimates around 30,000 people were in attendance each day, and they were excited to have sold out all 450 vendor booths.
"We'll be using the income to fund our community events like Encinitas Cruise Nights and the Taste of Encinitas," she said. "The public were happy to see so many new vendors and the participants did well since we had a great turnout."
The Encinitas Spring Street Fair was more than just a marker of the season — it was a spark of hope, a chance for many to get back to socializing, shopping, and building their business.
---
Charlene Pulsonetti is a local freelance writer.
encinitas current, cardiff current