Metrolink rail system first in U.S.
to have fully renewable-fuel fleet
North County Transit District to receive $4.8 million federal grant for hydrogen fuel cell electric buses
The Metrolink commuter rail system, which has service running from Oceanside north to Los Angeles, celebrated its transition Wednesday, April 13, to fully renewable fuel for its locomotives.
"It's a proud achievement to be the first rail agency in the nation to use renewable fuel to move people around southern California," Metrolink board Chairman Ara Najarian said in a news release following an event celebrating the changeover. "We are committed to continue working toward better air quality in our region and lessening our effect on climate change for the planet."
All of Metrolink's locomotives changed to renewable fuel in February, the agency stated.

"Metrolink is committed to protecting the environment, embracing social responsibility and creating economic vitality for our region," Metrolink CEO Darren Kettle said at the Wednesday event. "Our board-approved Climate Action Plan paved the way to this moment, and it is the first step toward our zero-emissions future."
The change to vegetable- and natural fat-based fuel comes as Earth Day approaches on April 22.
Agencies and organizations throughout the region are holding events and making announcements leading up to the international day marking the importance of environmental stewardship. The Greater Escondido Chamber of Commerce, for example, hosts its inaugural Green Transpo Expo on Saturday, April 23, at Westfield North County Mall. The event focuses on trending topics including the transition from gas to electric automobiles.
North County Transit District announced March 10 that it was receiving a $4.8 million grant Federal Transit Administration grant toward the purchase of eight hydrogen fuel cell electric Breeze buses. NCTD aims to deploy 25 hydrogen fuel cell electric buses by March 2025.
"NCTD remains committed to being on the forefront of zero-emissions technology, providing clean transportation choices for our customers, and improving the air quality in our communities," Jewel Edson, NCTD board Chairwoman and Solana Beach City Council member, said in a news release. "This grant will enable us to do just that and accelerate our transition to a zero-emission fleet."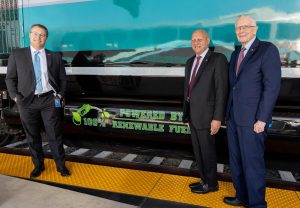 Metrolink launched a pilot program for renewable fuel in its locomotives early last year, according to the transportation agency. The fuel, made of recycled natural fats and vegetable oils, contains no fossil fuels and burns more cleanly, reducing pollutants and decreasing carbon dioxide by up to 80%.
"This transition by Metrolink to using renewable fuel will help further reduce the air pollutants from our locomotives and improve the air quality for all the communities along our 538 miles of track," Metrolink board Vice Chairman Larry McCallon said. "It is certainly the right thing that we needed to do for the health of our children and our quality of life."
McCallon is also a member of the South Coast Air Quality Management District's Governing Board.
Though considerably larger in its Southern California coverage area, Metrolink is similar in concept to the North County Transit District's rail systems — the Coaster commuter rail line, which runs from Oceanside south to downtown San Diego, and the Sprinter hybrid line, which runs from Oceanside east to Escondido.
Metrolink runs on 538 miles of track with 62 stations across Los Angeles, Orange, Riverside, San Bernardino and Ventura counties.
---
OsideNews is an Oceanside news site affiliated with the North Coast Current.
encinitas current, cardiff current