Three stages showcase local talent
at Encinitas Street Fair
Start the Encinitas Spring Street Fair day off right with alternative transportation options. Take the train to the Encinitas Station, 25 East D St., for easy access to the D Street festival entrance or rideshare and park at the Moonlight Beach or City Hall parking lots. Alternatively, take your bicycle or e-bike to either entrance to take advantage of a complementary bike valet sponsored by Electra.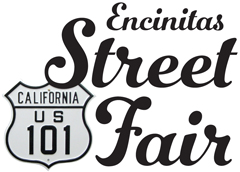 On Saturday, vibe with reggae groups Maka Roots, DJ Rashi, SYNRGY and Party Foul on the Main Stage, guitar and drum duo Jimmy & Enrique and classic rock band The Smokin Guns at the Lumberyard Courtyard Stage, or several local dance and music schools including Kehulili o Kailani and Bach to Rock Music School at the Hansen Community Stage.
On Sunday, check out singer-songwriter Son of Kane, beats by DJ Mancat, and the unique sound of The Farmers on the Main Stage, father-daughter duo The TomiTom Sho and rock cover band Black Rock Candy at the Lumberyard Courtyard Stage, or more up-and-coming entertainment from Yael and Vlady, Moore Rhythm & Co. and others at the Hansen Community Stage.
Kids can play on amusement–style rides at F and G streets, and doodle with chalk in the beer garden while adult guardians unwind with craft beverages and tasty bites by Frida's Street Tacos.
This year, food vendors will be using eco-friendly packaging and collecting organic food waste in partnership with EDCO.
As the day winds down, don't miss the beauty of Encinitas beyond Highway 101. As organizers say: "Come for the sun, stay for the moonlight."
---
Charlene Pulsonetti is a local freelance writer.
encinitas current, cardiff current