San Dieguito surf team wins state championship; on to June nationals
The surf team at San Dieguito High School Academy has long been one of the most renowned and formidable prep-surf teams in Southern California, and this past April, they added some new hardware and even more history as the team captured the 2022 Scholastic Surf Series high school state championship.
The victory ended a nearly 10-year championship drought for the Mustangs. But according to Head Coach Marco Martinez, anyone around the team in the preseason knew that this year's group had all the makings of a winner.
"These kids pushed each other so hard," Martinez said. "They were always working hard and trying to make each other better. The camaraderie and drive were extremely evident early on in the season."
According to Martinez, just to earn a spot on the team, surfers had to win several heats against more than 55 other students looking to do the same. And for those who did make the team, the drive had to be there.
"For tryouts, we had so many people from the community to come out and judge the heats," Martinez said. "We looked for three key things; speed, flow and power; and many of these young surfers had that, making it so difficult to judge."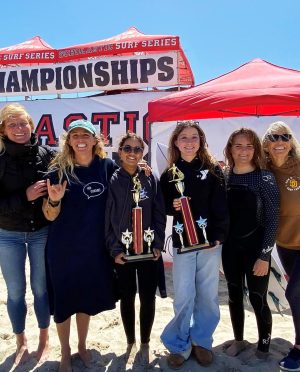 San Dieguito breezed through the regular season with a team loaded with talent. Some of their most impressive wins came vs. Torrey Pines, Carlsbad and Canyon Crest, with the team easily posting 20-plus point scoring, wins vs. all three opponents.
And it wasn't that the team was just dominating the regular season, but the Mustangs would have multiple first-place finishers in each division with regularity. In fact, in their first two meets of the season, the Mustangs took all three spots on the totem pole, a true testament to the team's amount of raw talent skill.
"These kids just always pushed each other to be great," Martinez said. "They would surf on the team together, but they would also go out every day, whether at Seaside, T-Street, or Cardiff Reef; they constantly looked to get better and to help each other. It's a big reason why we were so successful this season."
With the team cruising through the regular season, the only way they could make the season that much more special was to capture the state title in Huntington Beach. Even before the state finals were underway, a majority, if not all of the Mustangs, arrived hours early after Coach Martinez told them how great the surf was. The team arrived in full force to get practice heats in preparation for the championships meet. This is just another prime example of the team combining its talent with next-level preparation.
The early arrival and heat would yield immediate results as in their first-round heat, San Dieguito would dismantle Palos Verdes, placing first, second and third in tall their heats. The early momentum built would be ridden to the finals, where they would face off vs. another San Diego school and local rival, Carlsbad High School.
"
We as coaches have tried instilling that it's awesome to be a good surfer, but it's even better to be a good human."
— Marco Martinez, San Dieguito High School Academy surf team head coach
The championship match was close, but it would ultimately be San Dieguito that would pull ahead, thanks to the Men's Shortboard heat, which would prove to be the winning moment for the Mustangs and hand them their well-earned state championship.
"Oh, it was just such an awesome moment," Martinez said. "It's just such a long and fun season, and to see all the hard work that these kids put in pay off was truly special. To come away with something like that at the end of the season and see how happy they are, it was great to see."
As great of an achievement as the state championship was, San Dieguito is still not done. With their victory at Huntington Beach, the Mustangs are now set to compete in the National Championships in June, where they perhaps can make even more history.
Altogether, Martinez said he aims for the student athletes to earn more than a championship.
"We as coaches have tried instilling that it's awesome to be a good surfer, but it's even better to be a good human," he said. "They all helped each other all season and helped give back to the community by helping at two different food shelters this year. I'm so proud of the people they are."
The 2022 surf season was truly special for the Mustangs, filled with dedication, long hours, and plenty of waves.
---
Clark Fahrenthold is a local freelance writer.
(Story updated 06/02/2022 at 3:20 p.m.)
encinitas current, cardiff current