BMW Encinitas, a fixture with roots
to Harloff in 1960s, goes to Carlsbad
A bit of automobile history has left Encinitas with the recent closure of a BMW dealership on Encinitas Boulevard in the eastern part of town.
BMW Encinitas, which was located at 1302 Encinitas Blvd., closed March 20 and merged with BMW Carlsbad, according to a notice on the dealership's website. Signs were off the buildings by March 24.
"BMW Encinitas is Moving to Carlsbad," the statement on the BMW Carlsbad website reads. "Starting Monday, March 20th we are moving to 5215 Car Country Drive, Carlsbad CA 92008."
While the notice stated that the Encinitas dealership was moving, the BMW Carlsbad website did appear to carry over any Encinitas branding as of March 24.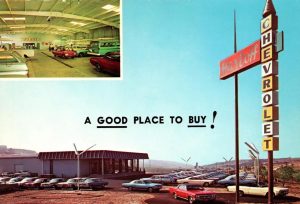 The closure ends decades of the dealership's presence at the intersection of El Camino Real and Encinitas Boulevard, then known as San Marcos Road, when Harloff Chevrolet, Herman Cook Volkswagen and Wayne Gossett Ford were among the first signs of future suburban development in the rural eastern part of the community in the late 1960s.
Originally located along Coast Highway 101, the original Chevrolet dealership was purchased by Ed Harloff in 1960, according to Harloff's 2010 obituary. The dealership would later relocate to the corner of El Camino Real and San Marcos Road, with the three outlets forming the business core of the intersection.
Harloff Chevrolet would grow to include BMW in the 1970s and move west halfway up the hill to 1302 Encinitas Blvd. in the mid 1980s. The original dealership location is now the site of Walgreen's and Bank of America.
The dealership later became a full BMW outlet. It became BMW Encinitas in 2006 when AutoNation became the owner. Herman Cook Volkswagen and Encinitas Ford are still located at their original locations.

---