Fresh round of rain expands Encinitas sinkhole, city reports
A sinkhole that developed on Lake Drive in the Encinitas community of Cardiff grew overnight after more than an inch of rain fell between March 10 and 11, the city reported.
The sinkhole's growth is a setback as city crews work to shore up the area and fix the problem, which developed earlier this year because of a drainage issue. It grew significantly by Feb. 26, however, after heavy rains exacerbated the situation.
"Due to the last night's rainfall of 1.3 inches, the sinkhole has expanded," city officials said in a statement issued Saturday, March 11. "Crews are working this weekend to continue installing the shoring and to stabilize the bottom of the sinkhole to prevent additional erosion."
Completion of repairs will now likely take until the end of April, according to the city. Lake Drive has been closed to traffic between Wales and Sea Village drives since the end of February, with a detour through Crest Drive.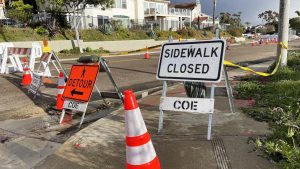 "With the additional size of the sinkhole, work is expected to last through April as crews work to complete the shoring, reconstruct the embankment, rebuild the drainage inlet and reconstruct the drainage pipe, stormwater detention basin, roadway, and sidewalk," the city stated in its announcement.
Repairs have involved the relocation of utility lines including gas, electricity, water and cable, according to the city.
Despite barriers warning residents and visitors not to enter the area, pedestrians, including people with children and pets, have been witnessed entering and exploring the sinkhole in the weeks since it developed.
"They kill and injure people," the International Association of Certified Home Inspectors states on its page about the phenomenon. "A person can be harmed when stepping into an existing sinkhole or when the ground beneath gives way during a sinkhole's collapse."

---