The North County Times long stood as one of the leading news sources for North County residents on everything from politics and school board coverage to entertainment reviews.
Its 17-year run was abruptly canceled in March as it was fully absorbed into the newspaper that purchased it last September, U-T San Diego. Then, on May 28, U-T North County and The Californian in Temecula were halted entirely.
Several employees responsible for those editions were laid off. Media reports estimate about 20 people lost their jobs overall.
Now, experts in the field of journalism have officially declared the death of what was the last remaining daily newspaper exclusively dedicated to coverage of San Diego's North County region.
That's a stark contrast to the many papers that once circulated in the region, according to former North County Times Managing Editor Rusty Harris.
"I came out here in '87 and this whole area – this county – was just filled with daily papers large and small," Harris said. "The weeklies and special interest papers and everything. And, as a journalist, it has been disheartening to see them fall off the wayside."
Harris said that he began working as a journalist in North County at The North County Blade-Citizen, a daily newspaper located in Oceanside. The North County Times would arise from a merger between the Blade-Citizen and the Times Advocate of Escondido, and Harris would come to be the paper's managing editor.
The paper stood alone as an independent entity for many years until its purchase by U-T San Diego from the paper's previous owner, Lee Enterprises, in 2012.
Various changes were made to the paper by U-T San Diego in the months to follow.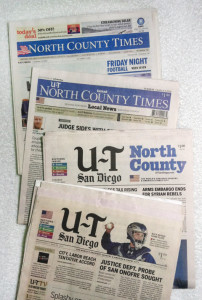 The paper was renamed the U-T North County Times before it became further incorporated into U-T San Diego as the North County section on March 6.
In the months since the restructuring – and now the layoffs and scaled-back coverage in late May – experts and former Times employees alike say North County coverage is not as strong or as consistent as the North County Times was in its coverage.
"There's no Oceanside news, there's no Carlsbad news, there's no Vista news," Harris said while flipping through the most recent edition of U-T San Diego's Sunday edition. "Those three cities were the core of the old Blade-Citizen coverage."
The lack of coverage in these areas is an indication that U-T San Diego has gone back to the kind of coverage it did prior to its purchase of the North County Times, according to Harris.
Harris said that coverage done by U-T San Diego before its purchase of the North County Times was geared toward events in the south of the county. There was a North County section, but it didn't provide the same depth of hyper-local coverage that the North County Times did.
Now that the North County Times has been folded into U-T San Diego, coverage of North County events has once again dissipated, according to Harris.
A recent article from KPBS drew a similar conclusion. A side-by-side analysis of U-T San Diego's main paper and its North County edition revealed very few differences in coverage. There appeared to be the same kind of content in both papers, according to the article.
Readers' preferences
U-T San Diego Editor Jeff Light disagrees with the idea that there's a void in coverage or a general sense of dissatisfaction among readers. He said that greater readership at U-T San Diego shows that the general public prefers the U-T's style of reporting to the North County Times' style.
"Keep in mind that even when the two papers competed in North County, the U-T, not the NCT, had the larger circulation – and not just by a little bit," Light said. "The idea that most people would want the NCT-style approach is simply not correct."
But Harris said that to assume such a thing discounts a niche audience that exists within North County.
He said that in every study conducted by the Blade-Citizen and later the North County Times, there were two distinctively different types of readers. There were readers who were primarily concerned about the news of North County. Those individuals lived in North County, worked in North County and went to entertainment venues in North County, and were in highest concentrations in places such as Vista, Oceanside and Carlsbad.
There was a separate group that Harris said was more geared toward events in the south of the county, however. He said numbers started to change in the La Costa Valley and the inland areas such as Poway, Rancho Bernardo and Rancho Peñasquitos. Those readers tended to have more ties to San Diego than they did North County and were more interested in U-T San Diego.
"So you had two groups of readers who were completely different," he said. "Those whose focus and ties were strongly to the north and those whose focus and ties were strongly to the south."
The numbers tended to vary for one paper or another depending upon the geographic area, he added.
An information vacuum?
Dean Nelson, director of Point Loma Nazarene University's journalism program, said that without an independent newspaper covering events and politics in North County, there stands a chance that the public will be less informed about events happening around them.
"There is a local news deficit as a result of this," he said in reference to the recent changes. "The purchase of the North County Times, the shrinking of North County coverage, the closure of The Californian – all of that means the U-T is covering that area less than it used to."
Nelson went on to explain that in spite of the fact that recent developments create a coverage void, they also open the door for nondaily publications and online news sites to cover their own region in a much better way.
He used weekly newspapers and websites as examples for how a news organization might be able to address residents' needs.
"There's an opportunity for weekly newspapers to step in and ask themselves, 'What do our readers need to know?'" he said. "What do they need to know about what's going on with their local officials, their local school board and any of these entities that really affect their lives? Some people feel they can do that adequately with local websites and maybe they can."
However, Nelson notes that there are some downsides to Web-based media.
"Anyone can say anything on a website," he said. "You can have a really good-looking website and make it look like it's a legitimate journalistic enterprise when in reality it's just creating more of a particular ideological perspective. And what the public has shown so far in studies is that they think print media, more often than Web media, looks to verify their facts and looks to get multiple points of view."
Nelson said that in their need to have news instantly, the public is sacrificing multiple points of view and news without an ideological slant.
However, Patch Media co-founder and President Warren Webster says that instant news represents the new era of journalism.
"It's not even daily, it's beyond daily," he said of Patch's coverage. "I think one of the great things we can do with Patch and with any digital company is, whether it's on a website, smart phone, tablet or anywhere else, we can provide not only the most up-to-date information, but also a place for people to discuss what's going on in their community. And I think that's an important evolution in the news and information business."
Patch has websites in Encinitas, Carlsbad, inland North County and several other communities around San Diego.
Webster said that Patch faces its fair share of challenges.
"Patch, like any news organization, faces the challenge of not being able to cover everything all the time," he said. "You want to have every bit of information you can available to citizens, but you can't do everything."
Webster added that, like any other media outlet, regional Patch sites have to decide what's most important to their audience to cover since they can't be everywhere at once.
Webster responded to criticism about factual inaccuracies by saying that he thinks the response to Patch has been mostly positive and that, in general, it's just as trusted as other forms of media.
"I would have to disagree with the statement that people feel that about Patch (that it's inaccurate)," he said. "Maybe certain people do think that about Patch and other online publications, but I think there are many trusted online publications out there and I would hope that Patch is one of them."
He added that Patch's brand is built around trust and that it has earned a lot of that in the short time since it has established itself.
Local concerns continue
Others remain unsure of the implications of the recent U-T San Diego restructuring.
Tony Kranz, an Encinitas City Council member and former journalist, said that it's hard at this point to tell where the future of journalism is going in the region.
"Some of what we're dealing with here is capitalism," he said.
He added that it's unclear whether readership will shift to publications such as the North Coast Current and The Coast News in the wake of the North County Times' disappearance.
The city councilman also said that in the present climate, nondaily publications are trying to cover more events in their community, but can only do so much.
"(Coverage) is not always happening in a fashion that allows people to plan for events," he said. "Sometimes they (nondaily publications) are running something that's dated or stale."
But others like Rusty Harris think there exists the possibility that nondaily publications can be a force for coverage within the region.
"What I believe there is a market for is either the expansion of one of the existing weeklies or a brand new weekly that keeps its focus on North County in the broad sense like the North County Times used to, which was from the coast to mountains," he said.
He said that city council members, school boards and special districts within the region need to be accompanied by a strong weekly as a service to the public.
"These people are all sitting around playing with taxpayer money," he said. "As a journalist, I feel like the taxpayers who are forking over the tax money to these districts deserve some sort of oversight, and I don't think U-T San Diego is doing it."
Harris added that he recognizes that U-T San Diego is dealing with limited resources, but that's also why it's important to have a strong paper dedicated to coverage in the region.
Alex Groves is a freelance writer in the region