School buys NCT building; open house Sept. 26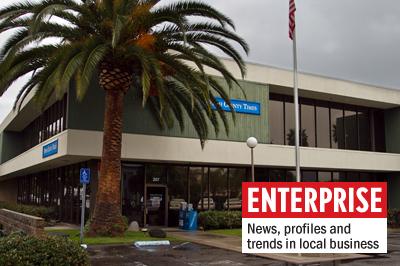 The sale of the old North County Times building to The Classical Academy of Escondido officially went through Sept. 12, and school officials are now working to prepare the facility to be a school.
The sale comes following an extended escrow period. The school was waiting for the allocation of necessary funds to purchase the building at 207 E. Pennsylvania Ave. pending the completion of a bond sale. But because of changes in the bond market that occurred around the intended time of purchase, the school had to extend its escrow agreement with facility owner U-T San Diego.
Now that the building has officially changed hands, school officials will begin some construction on the facility in the weeks to come, and students will begin school there at the end of August 2014, according to Classical Academy Executive Director Cameron Curry.
Curry said the finalized transaction is an exciting thing for the academy because, originally, its facilities and classrooms were spread out over a large area rather than a concentrated one.
"We've been in all sorts of facilities up and down two city blocks," he said. "Now we're all going to be under one roof, which is going to help with the school culture, collaboration and a sense of community."
Curry added that he hopes the movement of the school will not only be beneficial to the school community itself but also the surrounding community, as renovations and improvements will also be made to some of the areas around the building.
The academy plans to inform the public about its movement to the new facility, and what that will entail, at a community reception from 6:30 to 7:30 p.m. Sept. 26 inside the former North County Times building.
Michelle Stanley, communications director for Classical Academy, is organizing the event. Stanley said that all members of the community are welcome to attend the event, where they will be able to tour the facility, meet the architect supervising construction and get to view the design plan for how the facility will be changed into a school campus.
Stanley said the event is a good way to not only learn more about construction and design of the campus, but also to learn about the programs the school offers.
"We're going to have all our high school staff there and they're going to be representing all the programs," she said. "So not only can you learn all the future plans for what school is going be, but also what's going on in the pastime: we have the art department, we have robotics, we have cheer, we have computers."
Stanley said that to attend the event, those interested must first register online at classicalacademy.com/escondido/.
Alex Groves is a freelance writer in the region