Belching Beaver Brewery names new head of production

Belching Beaver Brewery of Oceanside has promoted its quality manager to head of production, the company recently announced.
Thomas Peters has served as quality manager since August 2022 and has been with the brewery since 2013, according to a Feb. 7 news release announcing the promotion. Peters joined Belching Beaver as a keg washer and volunteer brewer, working his way through the ranks to now overseeing all beer production at the company's Oceanside facility and its three brewery/retail locations in North San Diego County.
"It's been quite the fulfilling journey since my Belching Beaver beginnings," Peters said in the news release. "I believe wholeheartedly in our beer, and I take so much pride in making sure we are always renewing the love we see from our fans while looking to capture new love from new fans."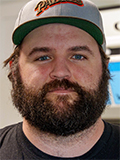 Peters previously served as head brewer at Pub980 from 2014 to 2017 and then at Tavern & Grill from 2017 until 2022, when he became quality manager at Belching Beaver.
"After 10 years in the Belching Beaver family I couldn't think of a more qualified and deserving candidate to uphold our standard of excellence going forward," Belching Beaver co-founder and CEO Tom Vogel said in the news release. "No beer leaves our facilities without Thomas' stamp of approval, and consumers will always remain accustomed to getting our very best product."
Peters is a Great American Beer Festival Gold and Silver Medal award winner, among other awards. In 2021, he won Gold for Unfrozen Caveman Lager in the German-Style Doppelbock or Eisbock category and Silver for Jan Quadrupel Vincent 16 in the Belgian-Style Strong Specialty Ale category. He won a Silver Medal for Fresh Hop Ride the Pine in the Fresh Hop Beer category in 2020.
He worked with Deftones lead singer Chino Moreno to create Phantom Bride IPA in 2017, named after the Deftones song of the same title, the company stated.
"Thomas started with us almost at the brewery's inception as a volunteer brewer," Brewmaster Troy Smith said in the company's news release. "He is truly obsessed with the science of brewing and it shows in his work and dedication to quality."
Peters is a Torrey Pines High School and University of California Riverside graduate. He and his wife, Heather, who also works at the brewery, recently had their first child.
"With Troy creating new brews and Thomas overseeing production and quality control, we are really excited for the rest of 2023 and beyond," Haley Smith, the brewery' director of marketing, said in the news release. "Belching Beaver will have some fun announcements soon as we look to push the edge on new styles."

---