Oceanside CA— Taking advantage of beautiful California conditions, Jan Frodeno (GER) and Heather Jackson (USA) used blistering run splits to capture wins at today's Accenture IRONMAN 70.3 California triathlon, crossing the finish line in 3:47:08 and 4:14:47, respectively. Frodeno, Germany's 2008 gold medalist, earned his second consecutive win in Oceanside while Heather Jackson earned her second win in three years.
Men's Race
Five-time IRONMAN 70.3 California champion Andy Potts (USA) led a strong men's field out of the water with his 22:44 swim time. Following closely was last year's winner in Oceanside, Jan Frodeno (GER), while the rest of the contenders were looking at one to two and half minute deficits as they ran into transition.
Once on the bike, a large pack consisting of Maik Twelsiek (GER), Ronnie Schildknecht (CHE), Brent McMahon (CAN), Jesse Thomas (USA) and Lionel Sanders (CAN) joined Potts and Frodeno at the front of the race. After the lead was exchanged a number times in the closing half of the bike, it was Sanders who dismounted his bike first, towing in Twelsiek, Frodeno, McMahon, Potts and Thomas, all within 16 seconds.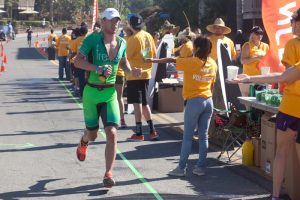 The race continued to be tight early on the run as Sanders and Frodeno ran shoulder to shoulder, with McMahon, Potts and Thomas just 13 to 20 seconds off the pace. Frodeno edged away from Sanders after three miles and held a tentative 36-second lead at the six-mile marker. The second half of the run was a different story as Frodeno pulled away from the pack and Potts mounted a hard push from behind to pass Sanders. On the strength of the race-best run of 1:10:48, Frodeno captured the 2015 Accenture IRONMAN 70.3 California title in 3:47:08. Potts' hard work on the run was rewarded with a second-place finish (3:48:43), while Sanders (3:49:19) hung on to grab the final podium spot.
Top five professional men's results:
SWIM BIKE RUN FINISH
Jan Frodeno GER 00:22:48 02:09:10 01:10:48 03:47:08
Andy Potts USA 00:22:44 02:09:20 01:12:25 03:48:43
Lionel Sanders CAN 00:26:59 02:04:46 01:13:12 03:49:19
Brent McMahon CAN 00:23:18 02:08:47 01:14:51 03:51:07
Jesse Thomas USA 00:26:04 02:06:06 01:16:19 03:52:52

Women's Race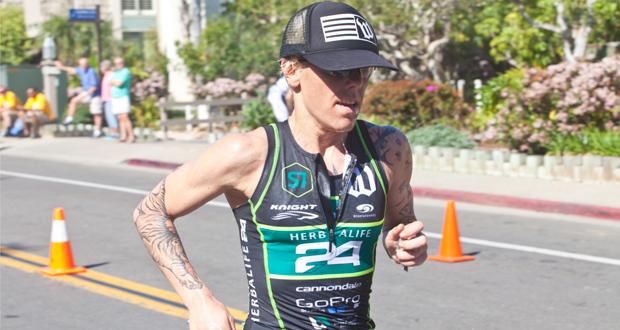 Exiting the water first for the women was Jen Spieldenner (USA) followed closely by a group that included Holly Lawrence (GBR) and Alicia Kaye (USA). Race favorites Magali Tisseyre (CAN), Heather Wurtele (CAN) and Michelle Vesterby (DNK) were over a minute down, while Heather Jackson (USA), Rachel McBride (CAN) and Angela Naeth (CAN) found themselves over two minutes off the pace.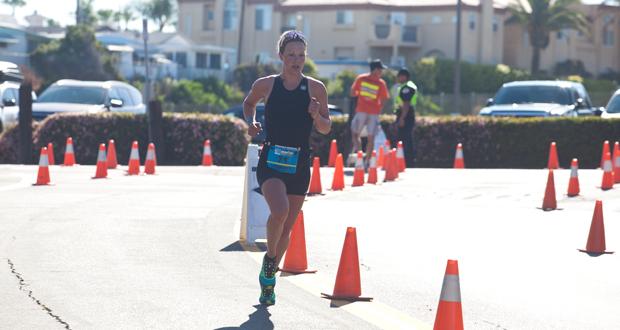 Lawrence put her head down on the bike and powered away from the women's field to take an early lead that carried all the way to the completion of the 56-mile bike. Naeth and Jackson rode in second and third as Wurtele forged her way into fourth.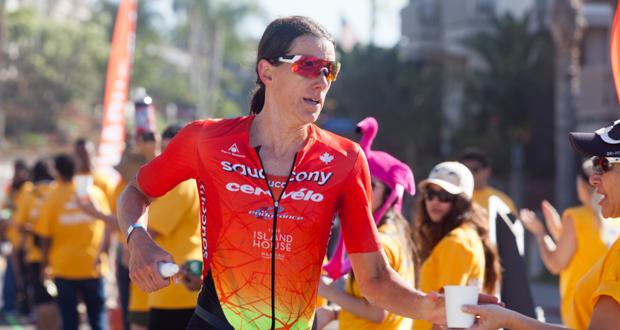 On the run, Lawrence's lead held steady in the opening miles, but by three miles it was evident that she her pace was dropping. With seven miles left in the run Jackson and Wurtele reduced Lawrence's lead to 50 and 90 seconds respectfully. Both stormed past the leader over the second half of the run, with Jackson maintaining a minute lead on Wurtele as Lawrence slipped to third. Jackson's gutsy run garnered the American her second Accenture IRONMAN 70.3 California title with a winning time of 4:14:47. Wurtele was next across the line in 4:16:07, while Lawrence rounded out the podium with her 4:16:59 finish time.
Top five professional women's results:
SWIM BIKE RUN FINISH
Heather Jackson USA 00:27:07 02:20:51 01:22:22 04:14:47
Heather Wurtele CAN 00:26:40 02:21:14 01:23:12 04:16:07
Holly Lawrence GBR 00:24:52 02:19:58 01:27:30 04:16:59
Alicia Kaye USA 00:24:54 02:24:28 01:25:14 04:20:01
Angela Naeth CAN 00:27:11 02:20:41 01:23:24 04:21:33

One of nearly 80 events in the global IRONMAN 70.3 Series, Accenture IRONMAN 70.3 California led athletes along a 1.2-mile swim, 56-mile bike and 13.1-mile run on a course that utilized Oceanside's beachfront scenery. Athletes began their day with a single-loop swim in the calm and protected waters of Oceanside Harbor. Once out of the water, participants embarked upon a single-loop bike course along the California coastline to San Clemente before dropping down into the Marine Corps Base Camp Pendleton and then swinging back to Oceanside Pier. The double-loop run course continued along the Oceanside Pier and then out to Oceanside's flat beachfront path known as "The Strand," where miles of sandy beaches provide beautiful views. The event offered a total professional prize purse of $60,000 and awarded 30 coveted age-group slots to the 2015 IRONMAN 70.3 World Championship, taking place in Zell am See-Kaprun, SalzburgerLand, Austria on August 30, 2015.
Visit www.ironman.com/california70.3 for event information and full official results.
click on thumbnail image to enlarge photo, begin slideshow
Photos: Steve Marcotte / OsideNews