Chula Vista CA— First year Head Coach, David Rodriquez gets his first and the Oceanside Pirates (9-4) got their second straight CIF Football San Diego Section title, Friday night, outlasting the El Camino Wildcats (7-6), 14-23 at Southwestern College, in Chula Vista.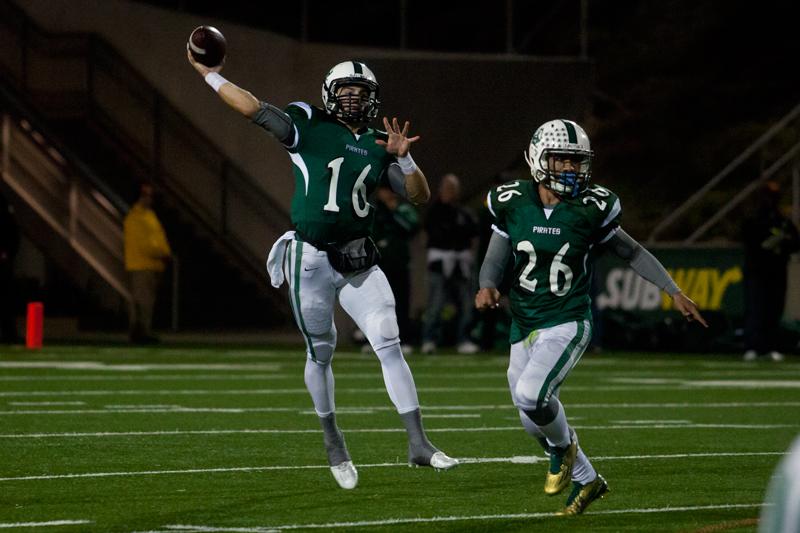 The Pirates got on the board first, on their second possession of the game, driving down to the El Camino 1-yard line. El Camino held the Pirates out of the end-zone three straight plays. Oceanside lined up to go for it on fourth and inches but got a delay of game penalty and settled for three on a Jake Gerardi field-goal.

The El Camino defense would set up the Wildcats first touchdown of the night. Jake Gerardi was back to punt from the Oceanside 20-yard line, a bad snap gave Michael Chatman just enough time to run around the right side and block the kick.
El Camino recovered and scored on the very next play. Beau Gallegos rolled to his left, and hit Chris Brown, in stride, on the right and Brown strolled in, untouched, to give the Wildcats their only lead of the night.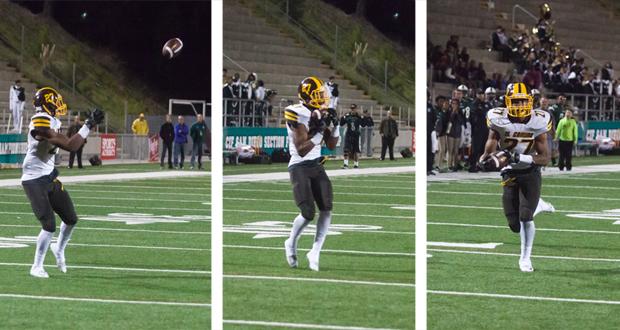 Oceanside would score twice in the second quarter. Beardsley on a one-yard quarterback keeper on fourth and goal at the one and a disputed, Beardsley to Paopao pass that capped off a sixty yard drive, replay showed the ball hit the ground but was ruled a touchdown. The Pirates took a 7-17 lead into the locker room.

In the third quarter, the Wildcats defense stopped a Pirates scoring drive, recovering a turnover at their own 22. The Wildcat offense took advantage of the O'side miscue marching 78-yards ending with Jayden Casey sneaking in on forth and inches, cutting the Pirate lead to three.
Oceanside would drive again in the fourth quarter but an interception ended the threat. The two teams then traded turnovers inside the El Camino 20-yard line.
On a gutsy call on forth and seven, from their own nine yard-line, El Camino went with a fake punt. Set to punt in his own end-zone, Jacob Voce looped a pass to a wide open Ben Goodwin but the ball passed through his hands.
The Pirates would tack on another six working with the short field, Niko Mageo punched it in from two yards out. PAT was no good, 14-23 the final score.
With the CIF San Diego Sector Division I title in hand, Oceanside will continue into the state playoffs with date, opponent and location TBA.
Click on any image to enlarge photo and begin slideshow
Photos/video: Steve Marcotte/OsideNews