Looking for an easy and inexpensive way to refresh your home this summer? With a little inspiration and work you can give your home a quick makeover within a limited budget.
"From interior decor projects to a fresh coat of paint, there are plenty of ways to make a big impact in a room for under $100," says Carmen De La Paz, 3M spokesperson and former host of HGTV's "Hammer Heads."
With that in mind, De La Paz, an interior designer and DIY expert, has some tips to help inspire project ideas:
Refurbishing a home can be expensive and tiring. Don't replace perfectly good furniture when there is no need. Instead, consider refreshing a tired chair, table or coat rack with a coat of paint.
Make a big impact by painting an accent wall in your home. Consider using complementary color to the palette of the space. Whether you want to enhance the size of a room, draw attention to a new furniture piece or just add a little flair, an accent wall is a simple way to make it happen.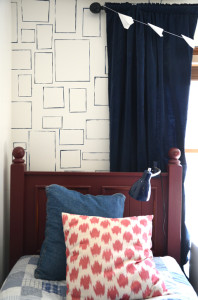 Paint a fresh design element like a pattern or a stripe to change the look of a room. You don't need to turn to a professional service for sharp, crisp paint lines. With a high quality painter's tape, such as the new ScotchBlue Painter`s Tape with Advanced Edge-Lock Paint Line Protector, you can get super sharp paint lines. This tape provides edge-to-edge protection for improved paint bleed performance.
Spice up your room with a DIY wall art project, such as this one from the Nesting Place blog.
First, tape off rectangles with high-quality painter's tape.  The shapes can be varying sizes and shapes to create an interesting wall effect.  Apply your creativity to have the shapes fill your wall space.
Remember, there are no rules, so at this point, get experimental and tape a design that looks appealing to you.
After taping, choose a single paint color and trace the painter's tape.  For a bolder effect, pick two complementary colors and alternate tracing the rectangle shapes. Alternating colors will achieve a brighter, bolder look.  Take into consideration what the room will be used for as that can help set the tone for the pattern and colors.
Also be sure to let the paint dry enough so that it's dry to touch before carefully removing it.
Feeling inspired? Channel that creativity this summer by submitting your own home refresh project for under $100 and you could win $5,000 to put towards a home makeover. Visit www.ScotchBlue.com/homecontest to enter the "Home of ScotchBlue Painter's Tape" contest by July 15, 2014 or learn more, and see official rules.
You don't need an enormous budget or a professional. With a bit of inspiration and the right tools, you can refresh any humdrum space in an afternoon.
This content is published as part of the North Coast Current's new Merchants' Square, an advertising supplement offering businesses an opportunity to connect directly with north San Diego County readers. If you would like to advertise in the Merchants' Square, email [email protected].