Family-friendly ideas for getting out this spring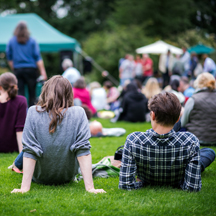 Spring is the best time of year to get outdoors and spend some quality time with the family. Here are three ideas to shake off winter's cabin fever and the most of the season.
Take a hike
Visit a state or national park and hit the hiking trails. Most parks have a variety of trails of varying difficulty and length. From Glacier National Park in the west to Arabia Mountain National Heritage Area in the east, check out options that offer nature and wildlife areas, hiking trails, parks and family fun. If hiking, do your research and select a route that's right for your group, pack some snacks and sandwiches before hitting the trail. Just be sure to stay hydrated, wear good footwear, and apply sunscreen and bug spray. As the weather warms, you'll want to take these important precautions.
To reward your efforts, plan a fun ice cream excursion for the way home.
Community events
Whether you stay local or travel afar, many local communities offer music, food and fun-filled spring events and outdoor festivals. How about an epic road trip to Brookhaven, Georgia? The city hosts its annual Brookhaven Cherry Blossom Festival each spring attracting over 15,000 people from across the country. The festival makes for a great girlfriends' getaway, guys' trip or family adventure. And, pets are welcome, too.
"This music and art extravaganza is our marquee event of the year, and we hope to kick off the Atlanta-area festival season in style," says Brookhaven Mayor John Ernst.
The totally free event takes place at Blackburn Park on March 24-25 and features something for all age groups, including great food, an arts and crafts festival, a classic car show, a 5k road race, a dog show, a Kidz Zone, and big-name musical acts, like country music stars Craig Morgan and Keith Anderson, as well the LA-based indie rock band, Transviolet, and the rock act, Hannah Wicklund & The Steppin Stones.
For more information about the 2018 Brookhaven Cherry Blossom Festival, visit brookcherryfest.org.
Enjoy your own backyard
Kick off the backyard season by firing up the grill and playing lawn games, like horseshoes, croquet, and bean bag toss. Create a warm-weather playlist to set the party mood and ask friends and neighbors over and turn it into a potluck.
After a long winter, welcome spring with fun outdoor activities at home and out in the community that the whole family can enjoy.
Find local North County events in the North Coast Current's Cool on the Coast column and Current Events listings.
This content is published as part of the North Coast Current's Merchants' Square, an advertising supplement offering businesses an opportunity to connect directly with north San Diego County readers. If you would like to advertise in the Merchants' Square, email [email protected].