Eclectic E Street Café brewing success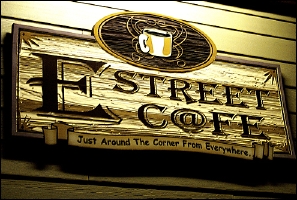 (E Street Cafe closed in 2014)
Who knew that a vague idea about revamping office space could materialize into a virtual neighborhood sanctuary?
Gutted and stripped of its sterile office roots, E Street Café (128 W. E St. in Encinitas) has hidden its Hyde-like appearance and transformed into a genial Jekyll of warm lighting, affable attitudes and communal energy whose diverse direction flows as freely as the coffee.
Owner Keith Shillington graduated from USD with a degree in computer science and spent the bulk of his career retraining computer professionals.
Moving his company, Ameritage Technology Partners, to the available E Street location in 2001, the business remained there for three years even though, "I had to take some leave time because my family started to take ill," recalled Shillington. "During that time the computer industry tanked."
After his family members had passed away, Shillington embarked on a worldwide trip with Bob Nanninga (who also works with the café) and returned to Encinitas ready to work.
With the computer industry at a standstill and time remaining on the E Street lease, Shillington thought, "It would be a great place for a cyber café."
Although the risk was undeniable (Shillington, the two silent partners and everyone else involved had no restaurant experience), they focused on the untapped vein of Encinitas café culture.
"What we were able to observe in our travels is that there are a lot of cool little places like this everywhere else in the world, but in Encinitas there's nothing like this," Shillington noted.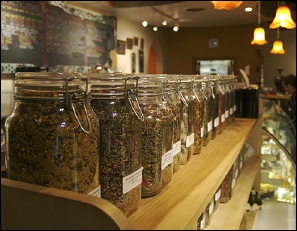 After eight months of massive construction, demolition and visionary feats of strength (photos at www.estreetcafe.com), E Street Café revealed its fresh face in September 2004, spouting success from the start.
"I would say the first six months was really pretty painful, but realistically I think we pretty much came up on line right after that," surprising even him, Shillington said.
Open until 10 p.m. every night, E Street Café immediately stood apart from other coffeehouses in the area. But evening hours only proved to be part of its appeal.
"Our continuously rotating art display changes every six to eight weeks," Shillington said proudly. "In the formative stages, one of the things that I wanted was, being as the (101 Artists Colony) had to move out of its space there on 25 East E St., I wanted to create a gallery environment.
"One thing I don't like about going into a lot of restaurants is that it's boring, it never changes," he continued. "You never know what to expect when you come into E Street and I like that."
In charge of the café's art, music and PR is Nancy May, one of the original founders and Nanninga's former classmate at Cal State San Marcos.
"I like to introduce people to new ideas and give them a level of fine art without going to a gallery," May said.
May also books the café's musicians and has a constant overflow of talent waiting to perform (for free).
"Musicians always ask if they can come back," she added. "They say it's so much better than playing in a bar because people actually listen."
Nanninga also acts as an integral cog in the Café's entertainment, referring to himself as the "groovy police" by keeping things fresh.
Emceeing weekly open mic and poetry nights, he said "my job has been always been the culture guru where Nancy May is our arts coordinator. She's like the administrator on that end and I'm like the monkey that stands up on stage."
Nanninga had been an avid member of Encinitas' art scene and worked with the 101 Artists Colony on East E Street, progressive galleries and live music/spoken word venues before they began closing.
"We're filling the need that was lost and improving on what was here before, knowing that the demographics of Encinitas totally support it," he said.
"It's just a great atmosphere," said Susan Adams, a frequent customer of the café and resident of Encinitas. "Usually when we have people in town we end up bringing them here because we like it so much. It's part of the Encinitas experience and we end up sharing it."
Focusing on clientele and remaining flexible seems to be the café's creed.
"The true thing of any good performer is know your audience, and that applies to a café," Nanninga said. "Know your audience, cater to your audience. If your audience changes, make changes. I think that's why E Street has been so successful because we're adapting with the community."
E Street Café has also adapted on a global level, certified as a green restaurant whose coffee is all organic, fair trade.
"Everything that comes out of our café is recyclable," Shillington explained. "We are an environmentally friendly, community friendly, European style, cyber café."