Java Depot — the cup stops here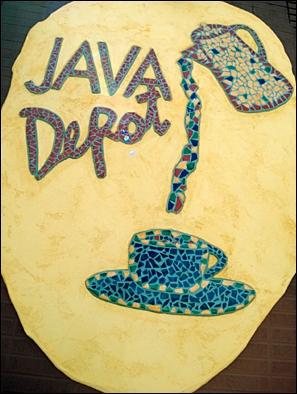 (Java Depot closed in 2017)
Across from the Solana Beach train station, Bryan Fuller and his wife, Krista, opened the Java Depot 16 years ago with no restaurant experience. Standing on the innovative, coffeehouse platform, they arrived ahead of schedule on a brewing market that would soon have the entire country jonesing for the perpetual coffee clutch.
"This was long before Starbuck's was even a concept," Bryan Fuller recalled. "We'd traveled throughout Europe and we'd seen what an important part of the community and community center it was to have a weigh station for people to come and go, the way that the coffeehouses of Europe were and just saw a real need for that."
They had a foggy lay of the land since Krista had lived in San Diego and Bryan hailed from Los Angeles. They thought that Solana Beach was the premiere location to serve this particular business.
"We knew being on a stretch of highway like 101, we could draw a lot of customers off of there. 101 has really become a Mecca for people biking and running, especially on the weekends," he said. "We knew the train station was an idea in Solana Beach at the time. It had been built, a little bit of where we came up with the name Java Depot."
The train depot (located conveniently across the street) brought more than the idea for their name by bringing droves of commuters for morning mochas and lunchtime lattes.
"Of course that came to fruition and is a kind of a transit center for North County. We feed off of that," he added.
Upon entering the Depot, you land in an open room with an antique, craftsman stable-feel (as in comfortably, worn, wooden barn) with ocean breezes winding their tracks through clear windows, letting in light and a feeling of familiarity.
"We opened it up and it was almost a success right off the bat and kind of evolved over time. We added a fresh juice and smoothie bar a few years later," Fuller explained.
The neighboring juice bar is connected to the main structure and resembles the blended motif of a surf shop and old-fashioned soda fountain with squint-inducing, orange walls. Dwarfed by oversized fruit and tall dunes of wheat grass lining out-of-reach shelves, this somewhat surreal Wonka-vision has you sipping an orangesicle (orange juice, vanilla flavoring, peaches, orange sherbet and ice milk) while the traffic of 101 rolls by.
Including "Java" in their title also infers their serious nature about the coffee.
"I think we have a very consistent product," Fuller said. "We have excellent coffee. A good portion of it comes from San Diego Tea and Spice, a local roaster for freshness."
They serve their blends in ceramic mugs and chilled beverages in glasses, giving a familial touch to your visit.
They also are personal about creating the menu.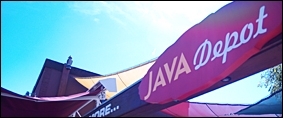 "We kind of have gourmet quality food items," Fuller admitted to their more than modest fare, boasting Krista's quiche and individual inspirations from employees, like "The Elizabeth" (hot turkey, avocado, melted cheese on a Mexican tora roll).
Recognition of staff is just one difference employee Chris Colwell sees at the Depot compared to his last job at Starbuck's.
"More so the difference I noticed is the people," Colwell said. "When people come into Starbuck's, they want their coffee. They want it perfect, they want it now. They want to be out — no smiles, no how are you."
Since working at the Depot, Colwell sees an alternate side to the coffeehouse consumer. "This is more friendly, more of a family environment, more personable," he said.
It might be the "sit down and put your feet up" kind of atmosphere that leads to a relaxed sense of clientele.
"It's very inviting. We try to support local artists as much as possible and allow them to display their works on the walls, so we rotate those out every couple of months," explained Fuller. Walls are dotted with vibrant oils and shadowed still-life, while golden frames help highlight the varying genres of local artists showcased throughout the year.
Encompassing all the creature comforts of home, they also provide free wireless Internet.
Patron Gil Walter splits his time between Solana Beach and Wisconsin, but comes back to the unique qualities of this stop for its classic vibe equipped with modern conveniences.
"At Starbuck's they charge for WiFi. I like the ambiance of this place much more and they have a good cup of coffee too. It reminds me of the '70s," Walters said.
This time warp is achieved with an airy, laziness that scatters potted, fuchsia orchids amongst nooks made for nestling and wall-popping artwork for soliciting the mind's muses. Crossing the threshold to an outside arch of pergola and angled, Adirondack chairs, you watch vines creep up the adjacent wall while shell imprinted cement lay under your feet in their impromptu courtyard.
Each of these well laid tracks returns to the same train of thought — "Overwhelm our customers with service," Fuller insisted, and he wants to make sure that includes everyone. "It's geared to quite a variety of people — from people on the go trying to get their coffee in the morning to housewives meeting mid-morning when kids are in school. We try to hit the full gamete of people and people of Solana Beach and North County."
Whatever your station in life, there always room for a friendly cup of coffee.
"We're a localized, pleasurable experience," Fuller said. "We're the 'Cheers' of North County. We've had the same customers for almost the entire time, a lot of them." He continued, "It's interesting to watch over the years how a lot of them will start out as younger people and will come back and bring their children back. It's one big family in the end."