CROLOS colored by artist's life experiences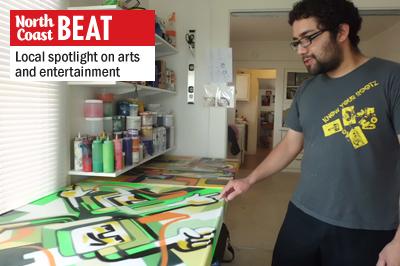 His first full art collection has been a long time coming for San Diego artist Isaias Crow. He is showing 17 large pieces at Santos Fine Art Galleries in Encinitas. He created the show over the last two months out of his home studio.
He named it CROLOS, a graffiti-style collection with positive affirmations "based on the sacred nature of self and family." Embedded in each piece are different characters and words, such as Joy, Love, Ask, Me and Us.
The show kicked off with a reception April 7.
"All these words are reflections of all of us," Crow said while pointing out the details on a piece called "Ego."
Including "positive vibrations" in his art is particularly important to Crow. He said he wants people who ultimately purchase it to be uplifted by it.
"I want my art to assist people through their days, to assist them when they are having rough moments, to remind them that they are vibrant," he said.
On the other hand, life was not always a positive one for the 33-year-old artist, who is a native of El Paso, Texas and Juarez, Mexico. He said that growing up, he spent so much time doing ill-intended actions that now that he's made a complete life change he wants to inspire others.
He plans on doing just that through his art since it's what helped him turn his life around.
"I was going through so much difficulties, and art was what made me feel at peace and has shaped where I am at and where I am going," he shared.
What has also shaped Crow is the volunteer work he's done throughout San Diego County over the past four years. He taught art classes at local grade schools, universities and community centers, and has created countless murals, many for free, in the private and public sectors.
At the Centro Cultural de la Raza in Balboa Park, he has organized community events and art exhibits; at Space 4 Art in downtown San Diego, he's offered art therapy classes for children.
"I wanted to give so that I could better understand myself through others," he said. "Out of those four years, I gathered life information.
"Now I need to just create. I need to continue to lock up myself in the studio because I have so much information," he added.
Crow said creating CROLOS out of his home around his girlfriend, 1-year-old daughter and teenage son has been a "wild ride," and finding a studio is next on his list.
"It has been nuts but sacred having the opportunity to work at home. My family has been nothing but flexible," he said.
Irene Castruita, his girlfriend and mother of his daughter, said she loves having him at home because she can make him his "cafecito" and is able to feed him. Previously, when he worked at a studio, he wouldn't make time to eat.
"I like having his art all over the house, plus I get to take care of him when he's here," she said.
About creating his first large-piece collection, Crow said, "It feels great. This is the biggest thing I have ever done."
"This collection is very different from my other work. It is powerful and valuable because it is all true. If anything I suggest you check it out," he said.
Santos Orellana, the owner of Santos Fine Art Galleries, said he is excited to be exhibiting Crow's work because the emerging artist is "amazingly talented."
"I was amazed at seeing his collection blossom as it grew," Orellana said. "He can do everything – portraits, spray, old-school wild-style lettering, and he puts his own edge on it all."
The gallery is located at 978 North Coast Highway 101 in Encinitas. The exhibit runs through the end of April, Wednesday through Saturday 1 to 9 p.m. and Sunday 10 a.m. to 6 p.m. A closing reception is set for April 28 from 6 to 9 p.m.
For more information, call (760) 633-1644, write to [email protected] or visit SantosFineArtGalleries.com.
Ernesto Lopez is a San Diego freelance writer
the exhibit runs through the end o
April, Wednesday through Saturday 1 to 9 p.m. and Sunday 10 a.m. to 6 p.m.