Comic-Con local snapshot: All in a week's work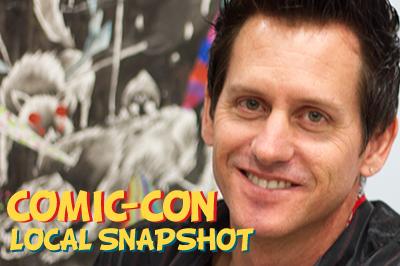 Given San Diego Comic-Con International's status as a major pop-culture hub for movies, television and comics, it might be easy to overlook the numbers of independent artists and entrepreneurs who count the annual event as part their bread and butter.
Among those this year was Cardiff-by-the-Sea artist and photographer Scott Saw, who wrapped up his Comic-Con week July 15 with an appearance by one of his Vixen Photography pinup models, Stephanie Castro.
"I don't come to Comic-Con for the movies or television," Saw said as he managed booth 4632 with fellow artists Charles Glaubitz, Pamela Jaeger and Mike Maxwell. For Saw and other artists and small press, Comic-Con is a working event.
Saw said that for him, Comic-Con serves as an important platform to get the word out about his art and photography.
Saw said this was his fifth or sixth Comic-Con. He spent part of the week with Encinitas-based illustrator Mary Fleener, who is also a repeat participant.
This year's Comic-Con, which ran July 12-15, drew about 125,000 visitors, based a self-imposed cap given the size of the San Diego Convention Center facilities, according to Comic-Con. Events were also scheduled at nearby hotels and eateries. Preview night was held July 11.
Comic-Con is set to return next year the week of July 18-21.