The Big C: Kane to come out swinging in 2013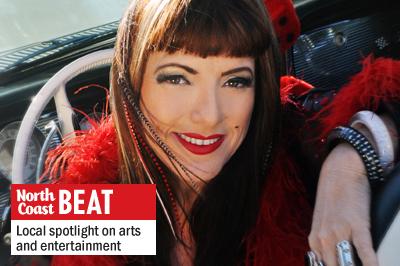 "I have to eat toast while I talk to you. I wake up nauseated in the morning. If I don't eat toast right away, I throw up."

Singer spewing during an interview? Yeah, probably not unprecedented. But Oceanside blues belter Candye Kane possessed a solid excuse for munching on heated bread during a Jan. 7 chat. In May, she underwent the second surgery related to her bout with neuroendocrine pancreatic cancer. Her first, an operation called the Whipple procedure, came in 2008.
"They take away half of your stomach, and they take out your gallbladder and part of your bile duct, part of your duodenum, 10 inches of your small intestine, and part of your pancreas. And they rewire you," Kane said of surgery No. 1.
But, she added, the cancer moves at a slow pace; it's the "good kind."
Rather than tuck herself away from view, the ex-Encinitan became reinvigorated. She resumed touring. Fourteen months after her first surgery came 2009's "Superhero." In 2011, she starred in an autobiographical stage play, "The Toughest Girl Alive," which premiered at San Diego's Moxie Theatre. The production, based on Kane's unfinished memoirs, took its name from her 2000 record – cancer is an addition to a life that has included punk bands, teen motherhood, stripping, adult films and pinup modeling.
Punk gave ground as Kane dug deeper into American music, discovering singers such as Memphis Minnie, Big Maybelle, Kay Starr, Lou Ann Barton and Patti Page.
"Very sad to see (Page) go and not be able to meet her and tell her how important she was," Kane said of the longtime North County resident, who died Jan. 1 in Encinitas. "I hope she went out knowing what an inspiration she was to young singers still, at least to this one, not that I'm considered a young singer anymore."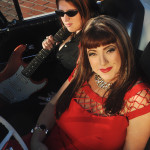 With a new year comes new music for Kane. She and guitarist Laura Chavez are working on the follow-up to 2011's "Sister Vagabond."
"She plays with such heart and humility," Kane said of Chavez, whom she hired in 2007. Effects pedal-crazed guitarists needed not apply.
"I hate that stuff. I want someone who's genuine, who plays sensitively, who doesn't step all over the vocal with their guitar playing. That was Laura," she said.
Songwriting is not a get-in-get-out activity for Kane.
"Twenty percent of what I write is good and the rest is crap, so I have to really be discerning and figure out what is suitable," she said. "That's still my biggest criticism about the blues world. People sort of settle for writing songs that are about wine, whiskey and women or whatever, and men, and write them in such a predictable way. … I think we can do better than that."
A possible title for the next disc, No. 12, is "Coming Out Swingin'," the name of one of the new "survival songs."
The Big C, though, is not a full-time muse. "It's boring if they're all about that," she said.
"Sister Vagabond" revealed a darker side of the self-proclaimed "Disney Pollyanna of the blues." Check out "Walkin', Talkin' Haunted House."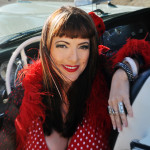 "It was adapted from a poem I had written about my broken heart. Cancer sort of gave me a permission to write that. … I used to shy away from them," she said of serious themes. "I feel like I don't have to rely on shtick as much. Which is not to say that it's not there."
Joy to the extreme still drives the performances, although there have been tweaks.
"My show used to have a lot more like sexual references, and I was a fat activist, so there were a lot of references to my size in the show," Kane said, adding she's a "little bitty thing" at 130 pounds, down from 280. "I used to play piano with my breasts, and do things that were a little more – you know, take a bottle of whiskey out of my boobs."
The life-affirming messages command the focus now. Kane departs Jan. 21 for dates in Europe. She returns for a performance Feb. 20 at the Belly Up, along with B.B. King. Her most recent local appearances were on New Year's Eve – gigs in Solana Beach and Escondido. In 2012, she trekked across the U.S. and France.
Her treatment regimen gives her hope for keeping at it.
"I'm 50. If I lived another 20 years, I'd be 70. It wouldn't be bad to live to 70," she said. "I'd like to live to 100, because I love my life so much and I'd like to continue playing music as long as possible."
Concert details
(sold out; updated Jan. 18)
B.B. King, with Candye Kane
8 p.m. Feb. 20
Belly Up Tavern, 143 S. Cedros Ave., Solana Beach
$99 (adv.) $104 (day of)
858-481-8140, bellyup.com
Stephen Rubin is a North County arts and entertainment writer