LeucadiART Walk draws diverse talent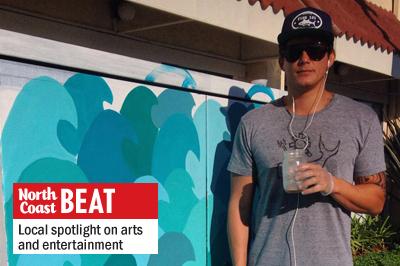 The NTC Mission Federal Artwalk in Point Loma (formerly Little Italy Artwalk) is a hotly anticipated event in San Diego County, but if you're looking for great art right here in North County or just a fun Sunday event, you would have been well-advised to check out the Leucadia Artwalk (dubbed LeucadiART Walk by its organizers), held on Aug. 24.
North County's coastal towns such as Solana Beach, Encinitas and Leucadia are known for containing many art galleries and a thriving art scene, but it can be seen as a little daunting to the average art-lover or those who live in other parts of the county to try to find all of the artists in the area and see their work. The Artwalk gives the general public a chance to see a few works by many North County coastal artists at one time, as well as find lesser-known talents and collect pieces which suit their style.
This year's title featured the event's main theme, LeucadiART Walk: 101 Artists on the 101. In its 10th year, the festival was revived from a previous Artwalk event, originally staged in the 1980s. The festival is organized and sponsored by The Leucadia 101 Main Street Association, which is also responsible for Leucadia's weekly farmers market, the town's Battle of the Bands in May and Summer Fun on the 101 in June, a surf-inspired music festival.
Per its title, there were 101 artists at LeucadiART Walk this year, with displays housed in a number of businesses along Leucadia's portion of Coast Highway 101. The festival included every genre of art imaginable, from fine oil painting and delicate glass work to street art, tattoos and even plant designs and live on-the-spot art demonstrations. There were also a number of bands covering big band jazz, local hip hop and good old-fashioned rock.
Interesting features abounded at the LeucadiART Walk this year, but here are a few of the highlights: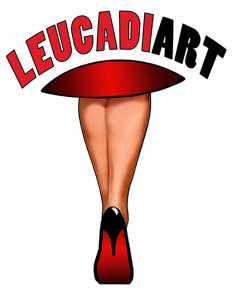 Succulent Surprises: These interesting desert plantscapes have been seen all over San Diego. The artists create one-of-a-kind pieces with succulent plants in handmade pottery pieces. Plants and pottery are designed to complement each other and come in a variety of sizes. Climate-appropriate living floral arrangements are all the rage these days, and this duo puts a personal touch on them with their unique hand-designed pottery vessels. To view more of Succulent Surprises' creations, visit their website: www.succulentsurprises.com/index.html.
Rosalind Ginsberg: Classic oils on canvas, and a classically beautiful style, is what Rosalind Ginsberg produces. Abstract and impressionistic yet highly emotive and evocative, Ginsberg's portraits display a mastery of technique which can only be called fine art. Ginsberg seems to focus mostly on African and Eastern imagery, although the portfolio on her website, www.rosalindginsberg.com, is a collection of many subjects, and any discerning impressionistic collector will be bound to find at least one piece to love and cherish.
Monstrinho: Michael Amorillo, or "Monstrinho," is a multimedia artist who is known in San Diego and nationally for his street art and watercolors, which usually feature a series of characters called "Monstro and the Kelp Kids." Monstrinho was creating a mural on a utility box on the corner of Basil Street and the 101 during the festival, but his murals can be seen all over the area. His characters are fun, whimsical and family-friendly. Monstrinho's watercolors are available for purchase on his website, www.monstrinho.com.
Blodgett Glass: With a variety of high-quality artistic and functional glass, Blodgett Glass's pieces are vessels to display candles and flowers, but they are so beautiful and well-crafted that they can be displayed as standalone art pieces. Blodgett has a number of series on its website, www.blodgettglass.com/main.html, such as the "Tsarina" and the "Sea Foam" series, so a collector is bound to find a piece in a style which will fit his or her taste.
454 Tattoo and Piercing: Body art is an increasingly popular form of expression, and 454 Tattoo and Piercing participated in LeucadiART Walk both as a venue and as an exhibitor. It also housed a dog adoption event during the festival. Tattoo artists have the advantage of displaying their work on living, walking billboards, but it was great to see the medium represented at LeucadiART Walk. The artists were featured working live in the shop, as well as their work, both on live models and as sketches. If you missed their displays, you can find the work of each artist at www.454tattoo.com/tattoo.html.
LeucadiART Walk is an event not to be missed in the coastal North County area. It combines the diversity of many media of art with Leucadia and Encinitas' legendary beach town hospitality. Check out www.leucadia101.com to see all the events sponsored by the Leucadia 101 Main Street Association and mark your calendars for the next LeucadiART Walk.
Layla Marino is a San Diego arts writer