Encinitas resident, Jazz 88.3 manager curates Carlsbad series
The city of Carlsbad's Cultural Arts Office has kicked off its four-part "This is Jazz" lecture and concert series with accompaniment from its new program partner, radio station KSDS Jazz 88.3 FM.
The longstanding program taking place at the Ruby G. Schulman Auditorium — located at the Carlsbad City Library Complex — began on Feb.14 and will run once a month on Saturday afternoons through May 8 from 4 to 5:30 p.m. The current series is curated by Encinitas resident and Jazz 88.3 Program Director Claudia Russell.
"This is our first year partnering with a radio station and KSDS is a natural fit to advance this educational and entertaining experience," said Vincent Kitch, the city of Carlsbad's cultural arts manager. "This is a great opportunity to come out and support America's true art form."
Kitch described the series as an interactive community experience in which audience members learn, listen and talk with live artists who are performing on stage. He added that the lineup is crafted to offer something for everyone and he encouraged all San Diegans to join in and take advantage of the free event.
Russell — a resident of Encinitas for the past 10 years and host of the Jazz Ride Home show, which airs Monday through Friday from 4 to 6 p.m. — curated the series. One of the station's on-air personalities hosts each of the four presentations, which include performances by some of San Diego's top jazz musicians.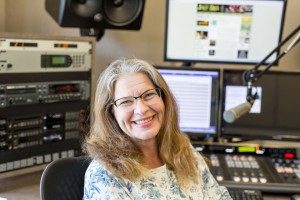 Russell said that the program expands people's understanding of music beyond just reading about it and gives audience members a chance to see jazz musicians performing songs that they may never have heard played live before. She called it "education by way of entertainment."
"It's nice to be partnering with the Carlsbad Cultural Arts Office on such a wonderful program and in such a great venue," Russell said. "They are dedicated to providing art to their community, which is what Jazz 88's programming philosophy is all about."
The program list for 2015 includes such topics as International Songs of Love, Women in Jazz, San Diego Legends and Young Lions – Passing the Art and Celebrating the Latin Connection in Jazz.
Guest performers include vocalist Allison Adams Tucker, pianist Sue Palmer, saxophonist Justo Almario and pianist Joshua White.
Hosts for the events are KSDS staff members Jeff Dalrymple, Janine Harty and Vince Outlaw, and Chris Springer.
UPCOMING PERFORMANCES
April 11: Jazz Appreciation Month: San Diego Legends and Young Lions — Passing the Art, with host Vince Outlaw and performer Joshua White
May 9: Celebrating the Latin Connection in Jazz, with host Chris Springer and performer Justo Almario
KSDS is part of the San Diego Community College District, broadcasting 24 hours a day from the campus of San Diego City College. The station was founded in 1951 and is the only full-time jazz and blues station in San Diego.
With funds provided through the San Diego Community College District's voter-approved Proposition S and N Bond Programs, KSDS has received a brand new state-of-the-art studio, a boost in transmitting power, digital capabilities and the ability to be heard around the world on the internet.
Chris Springer — host and chief programmer of the Latin Grooves show, which airs Saturdays on KSDS from noon to 3 p.m. — said that he is honored to be sharing his knowledge and passion for Latin jazz alongside Grammy Award winner Justo Almario.
"We've got an amazing show lined up for the people of North County," Springer said. "Justo is an absolute genius on the subject of Latin jazz and the public will definitely walk away completely entertained and enlightened on the subject of Latin music."
More information on the "This Is Jazz" program can be found at www.carlsbadca.gov/services/depts/arts/events/thisisjazz.asp or by calling 760-434-2920.
More information on member-supported KSDS Jazz 88.3 can be found at www.jazz88.org or by calling the administrative office at 619-388-3090.
Manny Lopez is a North County freelance writer