Review: Juliana Hatfield Three prove they deserve brighter spotlight

Even in the 1990s, a period in indie music when there weren't a lot of limits, Juliana Hatfield checked too many boxes to adhere to just one alt rock genre. Then again, she seemed like the Groucho Marx type anyway — she would never belong to a club that would have her as a member. That didn't stop the music and pop media from trying to label her, however.
Being soft-spoken and pretty, the pop media wondered why Hatfield's music wasn't more cheerful and why she didn't dress up her image. The alternative rock media took the opposite stance, saying her music was bubble gum indie, criticizing her guitar skills and questioning how genuine she was, though her lyrics were heartrendingly honest and vulnerable.
The one thing Hatfield was vocal about was how the critiques hurt her, and it should have been clear to anyone who watched her perform or saw her in an interview that this was a highly creative, sensitive and, above all, genuine artist who was being pulled apart by the public perception of her.
Hatfield's two most popular albums were 1993's "Become What You Are" with her band The Juliana Hatfield Three and the 1995 follow-up, "Only Everything." She was also known for her close friendship with the Lemonheads' Evan Dando, and she often performed with him and contributed to the Lemonheads' breakthrough album, "It's a Shame About Ray." Possibly most notably, the single "Spin the Bottle" off of "Become What You Are" was featured in the seminal Generation X movie, "Reality Bites."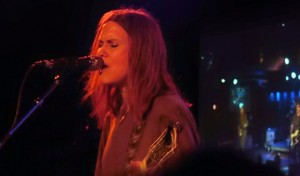 After 1995, it seems the extreme contrasts of fame and public opinion got to Hatfield, and this shy and unlikely rock star and her band with bassist Dean Fisher and drummer Todd Phillips retired from the public spotlight, though not from releasing music. Between 1995 and 2015, The Juliana Hatfield (sans the Three) released 10 more studio albums and she collaborated with countless artists including Aimee Mann, Nada Surf and David Garza.
The Juliana Hatfield Three haven't toured in full form since 1994, so the announcement of a new album, entitled "Whatever, My Love," and a reunion tour in 2015 sent waves through the alternative music scene. No matter what the indie media thought about her in the '90s, they were ecstatic to have Hatfield and her Three back in 2015. On the punky side of alt rock or the alty side of punk, The Juliana Hatfield Three are the perfect cure for anyone suffering from hipster indie folk malaise due to the current trends.
The March 18 show at the Belly Up was not as heavily publicized it could have been. Given that and the reclusive nature of Hatfield and her erstwhile Three, it wasn't surprising that the turnout was somewhat sparse.
The draw of the show was that The Juliana Hatfield Three would play "Become What You Are" in its entirety, so those who did turn out for this underrated band were a die-hard core group who knew every word to every song and belted them all out right back to Hatfield and her group as they played. The crowd, though small, was fervent and loved every minute of the first set featuring their favorite Hatfield album.
The first encore turned into a second full set in both length and fervor. The band played a number of songs from their new album, "Whatever, My Love," which has even more punk guitar style than previous ventures and is a high-energy and fun album containing lots of Hatfield's characteristic ironic and biting humor.
The band also happily played many songs from Hatfield's second most popular solo album, "Only Everything," which was your humble critic's favorite in the '90s.
The band seemed to be truly having a good time, cracking jokes with each other between songs. Hatfield ribbed bassist Dean Fisher about being "too magnetic" to understand her shyness. She interestingly alluded to the fact that she was so socially awkward she might even be on the autistic spectrum.
Shame on you, popular media. Shame. The crowd was delighted with not one but two encores, and the show lasted more than an hour and a half.
It seemed the crowd truly did not want the band to go offstage, but finally the lights in the venue came on and it was over just like that.
A band with near mythical status had to wait 20 years for all the hype and press to die down in order to come back and play an incredible show to only the select few who understood. It was never about Hatfield's pretty face or pop cache — in fact, it was about everything but that. Only Everything, as it were.
The Juliana Hatfield Three will be continuing their reunion tour in the UK and Europe during April and May, and here's hoping they are as well-received by those in-the-know fans who found The Juliana Hatfield Three to be inspiring in the 1990s and a beacon of indie rock hope in the 2010s.
Layla Marino is a San Diego music and arts writer