Encinitas artist guides young students through creativity at summer camp
One Encinitas woman's passion has been to keep children connected to art, and for the past 27 years, Carla Funk, artist and published poet, has merged art with learning at a camp she hosts for kids in her back yard every summer.
Funk said she started the camp in 1992 in her garage when she moved to Encinitas, and it has grown to accommodate a studio that is off her patio in her shaded backyard.
"It was just for my son and my son's classmates and the kids in the neighborhood," Funk said.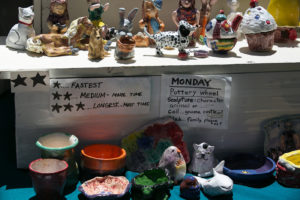 According to Funk's website, the camp is for children ages 5 to 15, and it offers kids a chance to learn how to work with ceramics and pottery. Funk teaches the children everything from building with clay and working on mosaic projects to color mixing and painting.
A typical weeklong class begins with about three days of clay work, Funk said, and she'll teach them five to seven things about working with clay — for example, sculpting, scabbing and pinching.
Funk said recently that all her students are returning except for one.
"They come with their own lists," Funk said and told a story of one boy who brought his remote control to camp and had it wrapped in foil so as not to get clay on it. Funk said he wanted to be able to measure it so he could make a box for the remote control to fit in.
"They come in at a level where they are working now and they learn new skills," Funk said. "By the end of the week, they're proud of their creations. They're proud of what they made."
"
By the end of the week, they're proud of their creations. They're proud of what they made."
— Carla Funk, Encinitas artist
Funk said she believes "handmade art possesses a certain soul that springs from fingertips of the creator and it makes a connection with the viewer."
The Houston Education Research Consortium conducted a two-year study with more than 10,000 students enrolled across 42 schools to measure just how art affects learning.
According to the study published in February, "researchers found arts-learning experiences benefit students in terms of reductions in disciplinary infractions, increases in compassion for others and improvements in writing achievement."
In addition to that, according to the National Endowment for the Arts, an independent federal agency that uses its funding and support to give Americans the chance to participate in art, "arts education helps students become better readers and writers."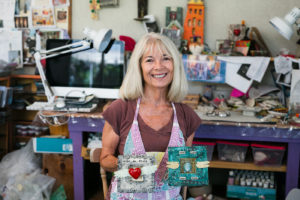 Funk said she believes she is encouraging more advanced thinking and problem solving by teaching children how to be creative with art.
Funk has mainly relied on word of mouth to keep her camp full, but with the increase in organizations like the YMCA, community centers and even schools that run their own summertime camps, Funk said enrollment has thinned out.
However, Funk said she loves to hear when the parents tell her that her camp is the only camp their child likes.
"It warms my heart when the kids want to return each year," Funk said.
Funk's summer camp runs from now until the week of Aug. 12. You can also see Funk's art in person at Off Track Gallery in Encinitas or at local art shows and street fairs that she participates in yearly.
For now, Funk has her hands full with clay and children.
"They just get better and better," Funk said. "They feel proud."
Meghan Lanigan is a local freelance writer
encinitas current, cardiff current