San Diego Comic-Con marks milestone for Carlsbad artist
Artist and designer N.C. Winters showcases gig posters and other work during convention's 50th run
The energy and anticipation were palpable. People flooded the streets. They came by car, trolley, electric scooters, bikes and on foot.
Some people dressed up as Mike Myers' character Dr. Evil from the "Austin Powers" movies.
One man came as John Coffey, the beloved character in "The Green Mile," played by Michael Clarke Duncan, and after this look-a-like in matching jean overalls took pictures with people, he made sure to lean down and recite a line from the movie in their ears with the same deep voice as Duncan.
It was here. San Diego Comic-Con.
For four and a half days, the Convention Center in downtown San Diego and the surrounding area were turned into a mecca for fans of all ages to slip into a world of creativity, cosplay and comics. You could find anything from Marvel to DC comics, toys to technology or superhero illustrations to fine art, and everything in between. This spectacular playground spanned 460,000 square feet, and planners expected crowds of at least 135,000 over its multi-day run.
Carlsbad artist and designer N.C. Winters had shown his artwork at Comic-Con before, but this year marked a milestone.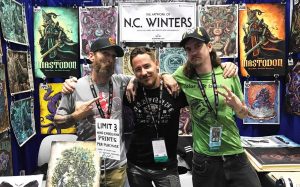 Winters began designing gig prints for some of the biggest bands in the world in 2017, and with just a little over two years' worth of work to showcase, Winters has built himself an impressive portfolio in a short amount of time. Bands such as Metallica, Nine Inch Nails, Dave Matthews Band and Primus have hired him to design posters for their shows.
He took his seat behind the table where his latest, Lepidoptera 2, a detailed art print of a butterfly, was on display with a sign enforcing a strict limit of two per person, as the overhead PA system announced that the doors had officially opened. Within minutes, people were at his booth snatching up rare variants of his prints, including a limited run printed on shiny foil paper as well as those that Winters did hand embellishments on to create one-of-a-kind pieces of art.
Winters took it all in stride, greeting people, posing for pictures and chatting with fans with an easy-going nature.
"This is the place to celebrate the stuff you like," Winters said. "It's overwhelming. It's a sea of humanity and bodies. So many are here because they're in love with it."
This year marked the 50th anniversary of Comic-Con and the first time Winters decided not to share a booth at the event.
"I just have always felt the need to share it," Winters said. "I felt like I didn't have enough stuff. This was the first time that I was like, you know what, I have enough stuff."
"
This is the place to celebrate the stuff you like. It's overwhelming.
— N.C. Winters, artist
This year, the walls and table of his booth were adorned with almost three dozen different prints, including gig posters, time-released art prints and original pieces where only one exists.
Winters has been doing art in some capacity for a long time, he said. He got his degree in fine arts from the University of Arizona in 2002 and started doing art on the side while he worked at ad agencies and print shops after college.
Before taking on the gig poster world, Winters worked on fine art projects as well as licensed art projects and pop culture shows.
Winters said he hadn't done screen printing design before, which is what standard gig prints are, and was curious if it was a route he could go.
"Let me try and see if, A, I can hack it, B, if I enjoy it, and C, if it's profitable," Winters said.
Winters has been able to hack it because all but one of his gig prints have sold out in record time when they drop in his online store. A few of his prints have sold out in under a minute, which is why he has to put a strict limit on how many prints can be purchased at once, Winters said.
Winters said that with gig prints, there are often limits placed by the band's management, but that was something he embraced.
"I like the constraint," Winters said. "I'm going to try to make each print work on its own as an art print and I'm gonna try to go all out."
His first gig print was for the band Primus on May 20, 2017.
"The response was incredible," Winters said.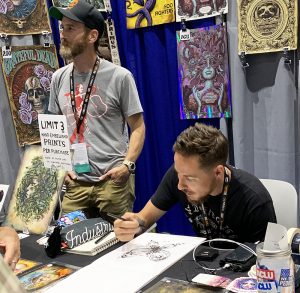 Winters said that print led to a couple more, which in turn led to a couple more. Bottleneck Gallery reached out to him to see if he would be interested in doing a Grateful Dead print, as it had a license through the estate, and Winters said yes.
"I wanted to make something that paid homage to the art that's out there, but not be a rip-off," Winters said. "I wanted to push the limits of what a poster can be."
Typically, artists will spend upward of 100 hours designing a print, but with the Grateful Dead print, Winters put in more than 1,000 hours and worked on it from fall of 2017 until spring of 2018, he said.
"It was the longest project I've ever done," Winters said. "Grateful Dead are iconic. It's legendary and was also up my alley."
One aspect as to why Winters thinks that particular poster turned out so well was the screen printing studio, Burlesque of North America.
"Specifically, for this one, there was a touch I wanted it to have," Winters said.
He explained that it was his chance to use "a ton of colors and lots of layers and lots of subtlety," and he knew this was the right studio for the job.
"It was that print shop that really made it sing," Winters said.
Up next for Winters is DesignerCon, an art and design convention in November in Anaheim, and Flatstock, presented by the American Poster Institute and showcased at SXSW, a conference and music festival held every March, in Austin, Texas.
And of course, more gig posters.
"I've kind of fallen in love with that and I don't see anything changing any time soon," Winters said.
Meghan Lanigan is a local freelance writer
cardiff current, encinitas current, carlsbad current