Civil War play brings history and comedy to stage in Solana Beach
"If history was always taught this way in class, everyone would want to go," award-winning actor Richard Baird said about "Ben Butler" by Richard Strand, the play now on stage at the North Coast Repertory Theatre in Solana Beach, extended through Nov. 21.
Centered on a real event during the Civil War, the play tells the story of the Union's Maj. Gen. Benjamin Butler, whose morality and loyalty to the law are put to the test when a runaway slave comes to him for asylum.
As the first theater in Southern California to produce this play, it took years before the director, David Ellenstein, was able to acquire the rights. When Ellenstein first laid eyes on the script in 2014, he knew he wanted to present the play to his audience.
"(It is an) interesting, funny, surprising script that resonates with our world," he said, "It made me laugh and want to learn more about these people and this event."
While Ellenstein's description of the production may classify "Ben Butler" as part history, part comedy, its playwright, Richard Strand, said his focus lies primarily on the story rather than on the laughs it provokes.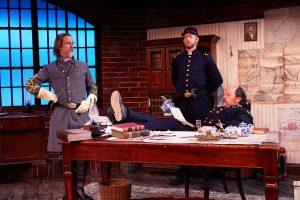 "I hope that it triggers conversations that are important for us to have," Strand said.
This story in particular involves four characters, three of whom are based on real people. Ben Butler, a lawyer and major general in the Civil War, is played by Richard Baird, who sees him as a "collection of contradictions." His observations may be in reference to Butler's unique nature, stern in his commands at one moment, warm and willing the next. Baird said he thinks his character is a representation of how "people can show wildly different sides depending on the situation that they're in."
It is through Butler, his right-hand man, Lieutenant Kelly (Brian Mackey), a runaway slave named Shepard Mallory (Brandon J. Pierce) and Major Cary (Bruce Turk) that the historical yet often overlooked moment in history unfolds on stage. A story that can invite conversations about American history, slavery and the people all around us, Strand's "Ben Butler" may even encourage its viewers to learn about each other's unique story.
"Hopefully people leave the show being like, 'I need to be kinder to my fellow man but also try to put myself in their shoes,'" Pierce said. "There's always more to the story than what you see on the surface."
---
Roxana Becerril is a local freelance writer.
"Ben Butler" performance information:
Show times through Nov. 21:
Wednesdays at 7 p.m.
Thursdays through Saturdays at 8 p.m.
Saturday and Sunday matinees at 2 p.m.
Sunday evenings at 7 p.m.
Address:
North Coast Repertory Theatre
987 Lomas Santa Fe Drive
Solana Beach, CA 92075
Tickets:
Weeknights, Wednesday, and Saturday matinees — $60.
Saturday evenings and Sunday matinees — $65.
Sunday nights — $57.
Seniors, students, military and educators — $3 off admission.
More information and ticket reservations:
858-481-1055
www.northcoastrep.org
encinitas current, cardiff current