February fundraisers scheduled in honor of Nancarrow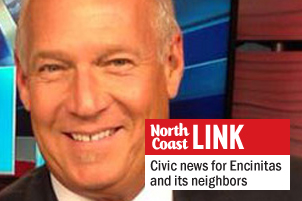 Loren Nancarrow's memorial service was a paddle-out at the beach in Cardiff led by his wife, Susie. Two hundred people followed her into the ocean on their boards while hundreds more waited on the sand. As they said goodbye, a whale swam by right in front of them and flicked its tail.
It was a fitting sendoff for one of San Diego's favorite news anchors, who was known for his love of nature. He died Dec. 28 from brain cancer. He was 60 years old.
But apparently his work isn't finished. Donations for the Loren Nancarrow Healing Garden at Scripps Radiation Therapy Center recently reached $124,000, almost a quarter of a $500,000 goal. The money will benefit all cancer patients at Scripps.
Two big fundraisers are on the calendar to help raise that money. The first one will be on Feb. 9 at the Belly Up Tavern featuring The Highwayman, Tony Suraci.
The Rock in the Park All Star Tribute to Nancarrow at The Reuben H. Fleet Science Center will be held on Feb. 21, featuring a number of notable musical artists including Eve Selis.
Nancarrow's son, Graham, will perform with his band, Nancarrow, at both events.
Auction items will be up for bid, including a three-hour cruise for up to 30 people on the 92-foot yacht Elegante, once owned by John Travolta; a week for two at Rancho La Puerta spa; and a behind-the-scenes-tour of Fox 5 San Diego.
Nancarrow's coworkers from television news will also attend, including Hal Clement and Kathleen Bade.
Susan Taylor, executive director of external affairs at Scripps Health and former NBC 7/39 news anchor, is spearheading the effort. She was also a close friend of Nancarrow's. He reached out to her to help him put the project together.
"The thing about Loren is that he always put everyone else first," she said, speaking of his desire to help as many other patients as possible.
She added that he had a wicked sense of humor; he called his tumor the "Blob."
"Loren wanted life to be fun," she said. "He took his job seriously but he didn't take himself seriously."
The Solana Beach resident was a five-time Emmy winning journalist spent most of his 30 years working in San Diego, at KFMB-TV News 8, KGTV 10News, and most recently KSWB-TV Fox 5.
Last July, he won the 2013 Journalist of the Year Award from the San Diego chapter of the Society of Professional Journalists. In his speech, he was true to his environmental roots by exhorting his colleagues not to hire anyone who still denied global warming.
His unbridled love of nature was a passion he often shared with viewers. An organic farmer and avid gardener, he wrote several books on the subject, including "Dead Snails Leave No Trails", "Dead Daisies Drive Me Crazy" and, more recently, "The Worm Book."
He chronicled his thoughts about life on Facebook and in his blog, The Nancarrow Project, when he was diagnosed with brain cancer in January 2013. He said he was surprised by the number of people who were moved to respond.
Nancarrow's final blog was dated two days before his death. In it, he spoke about acceptance and the hope that his energy would stay connected to his loved ones.
He is survived by his wife, Susie, and children, Graham, 25, Hannah, 24, and Britta, 20.
To contribute to the Loren Nancarrow Healing Garden, go to www.scripps.org/loren
To get tickets for the Belly Up benefit, go to www.bellyup.com/event/the-highwayman-5/
To reserve seats at the Rock in the Park Concert, go to www.eventbrite.com/o/rock-in-the-park-by-the-reuben-h-fleet-science-center-5795343406
Helen Hawes is a North County freelance writer