Del Mar filmmaker Sue Vicory emphasizes the Power of One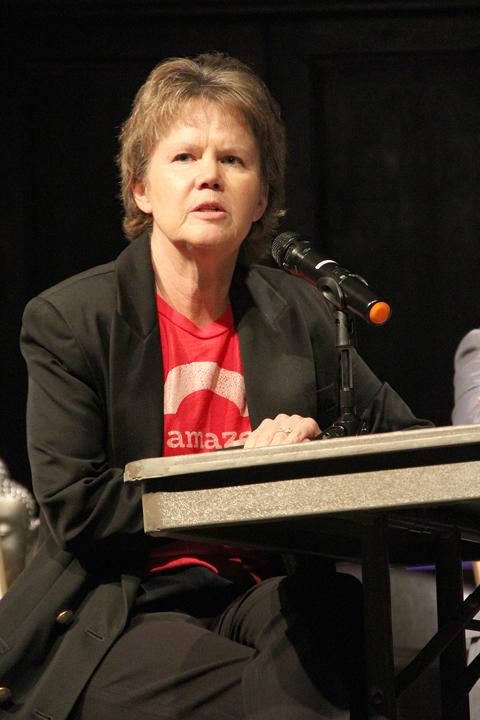 Amanda Rhoades
September 30, 2015
When her kids went off to college, Sue Vicory didn't settle into retirement. Instead, she asked herself who she wanted to be in the second part of her life. The answer was a documentary filmmaker.
Vicory, a Del Mar-based filmmaker, will embark on a cross-country road trip early next year to promote her Web series and community service project, My Power of One.
"My intention is to leave goodness in my path. At this stage in my life I'm intentional about uplifting someone else," Vicory said.
My Power of One is an online clothing company, but Vicory will also be launching a Web series under the same name later this year.
Vicory said the first episode of the series was inspired by an experience she had while working on her first film, "Homelessness and the Power of One."
In the three years it took to create the documentary, Vicory filmed from Harlem to Skid Row. She interviewed all kinds of people involved in the homeless community, from executive directors of shelters to community volunteers. There was one commonality between everyone she talked to.
"We heard that if someone were to go from the bottom of their spiral back into society, it was always one person that made a difference in their life," Vicory said.
She said that for her, this was a light bulb moment because it demonstrated how much of a positive impact that one person could have.
But Vicory set the idea aside for nearly 10 years while she worked on other projects. It wasn't until a trip to Paris with her husband last year that she felt inspired to set it into action.
When the My Power of One website went live on Vicory's 60th birthday in May 2014, she called it her gift to the world.
Though the site initially only carried apparel, the message behind My Power of One is more than just a t-shirt. Vicory said she hopes her brand can inspire people to help others and encourage them to become more active in their communities.
"Sue's take on things is to get to the heart of people," said Lori Jones, a producer on a short film called "Down Stage" with Vicory. "She takes these situations and turns them around. Her heart is just gold in that way."
During the production of "Down Stage," their entry into the San Diego 48 Hour Film Project over the summer, most of the women involved in the all-female team did not already know each other. But Jones credits Vicory with building the team and keeping everyone on track.
"Casting was how it was because she's a really good judge of character. She's really methodical in everything she does," Jones said. "She had it all planned out."
While working "Down Stage," Jones said that Vicory was so concerned with taking care of the crew that she even brought on a masseuse.
"She's an amazing lady," Jones said. "She's very generous."
In January, Vicory will hit the road with her husband and their dog, Kacy, as she sets out to build teams of inspired individuals across the country. For more information on My Power of One, visit www.mypowerofone.com or www.facebook.com/MyPowerof1.
Amanda Rhoades is a San Diego freelance writer