Oceanside CA— The Filipino-American Cultural Organization (FACO), a 501C3 organization, celebrated its Holiday Ball and 3rd Annual Hiyas Awards on December 12th, Saturday at the Pacific Views Event Center, with over 400 guests.
The association recognizes the outstanding Filipino-Americans in San Diego County who excel in their field of study or expertise but also who had made a great impact to the Filipino-American community through their numerous civic and charitable contributions. This year's Hiyas honorees are Hilda Koronel, Icon Award; Dr. Tess Mauricio, Medicine; Julia Legaspi, Beauty Artistry; V-Marie Rebolledo-Barnachea, Government Service; Femie Cupit, Real Estate Developer & Golf Organizer; Dr. Irmina Martinez, Dentistry; Julie Calalay, Nursing; Olive Bautista, Humanitarian; Leo Sicat, Community Organizer; Charice Newberry, Healthcare; Cora Anderson, Dance; Rica Derosier, Presidential Lifetime Achievement Awardee and House of the Philippines, Presidential Award of Excellence. Giving the awards are FACO President Belle Limoge and Oceanside City Mayor Jim Wood.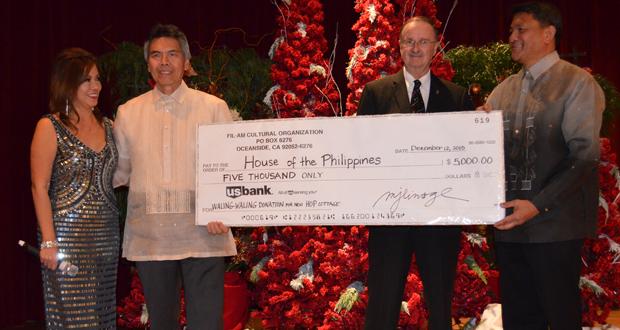 FACO, in its mission to provide youth education and disaster relief, has built a learning center in Tacloban, Leyte, Philippines. The effort was in partnership with the Habitat for Humanity Philippines, as its legacy to the Filipino people in Tacloban who were ravaged by Typhoon Haiyan. The official turn-over ceremony will be held on Feb. 19, 2016 in Tacloban.
FACO also provides scholarship programs here and in the Philippines.
During the celebration, in line with FACO's mission to promote the Filipino culture, FACO endowed a $5,000 donation to the 'House of the Philippines' for its campaign to have its own house in Balboa Park. Currently, it shares with the House of France. The campaign also aims to provide the 'House of the Philippines' with a larger room with more improved facilities and equipment, and provide more Sundays to showcase Philippine history and culture.
Emcees of the program for the program were; Alexis Plaisted, Debbie Nicastro and Ted Lintan. Providing the entertainment were Miss Alessja Morales, the 2014 Global Pinoy Singing Idol USA Champion; Dra. Tess Mauricio, the Cora Anderson Dance Instructors, FACO queens and Miss Teen Fil-Am Maireen Barnachea .
The FACO queens and princesses presented were Miss Fil-Am Kimberly Sivage, 1st runner up Allana Alonzo, Miss Teen Fil-Am Maireen Barnachea, Mrs. Fil-Am Roxanne Wallace, Mrs. Senior Golden, Dina Chang, Mrs. Senior Platinum, Amelia Sivage, Miss Pre-teen Isabella Valmeo and Little Miss Zuleyka Serrano.
The successful event was organized by the Holiday Ball and Hiyas Awards committee: Belle Limoge, President and Chair; Zucette Lumabas, Vice-President and Co-Chair for Holiday Ball; Alexis Plaisted, Co-Chair of the Hiyas Awards; Esther Adversalo, Sheila Cabuco-Butler , Enri Fulmore, Rein Hanson, Mary Lou Matienzo. Shirley de Leon Matsumoto, Criscelle Santiago, Alice Velasco and Treas. Rose Wallace.
Click on any image to enlarge photo and begin slideshow. Photos may take a moment to load fully due to large file size
All photos courtesy of FACO