Scholarships Available to High School Seniors Countywide
Applications now available online – deadline is march 21, 2016
San Diego County CA— The Don Diego Scholarship Foundation is delighted to kick off its 30th Anniversary Year in 2016 by offering a total of $44,000 in college scholarships to be awarded to 14 outstanding high school seniors who reside in San Diego County and who have participated in the San Diego County Fair and/or other activities associated with the Del Mar Fairgrounds.
This marks the highest annual total in the history of the Foundation, which began on a modest level in 1986 with $1,000 scholarships annually awarded to three students.
The deadline to apply for a scholarship is March 21, 2016. Finalist interviews will take place in April. Recipients will be announced in May and honored at the exclusive Don Diego Gala to be held during the 2016 San Diego County Fair.
Eligibility requirements and applications are at www.dondiegoscholarship.org. For questions, contact Executive Director Chana Mannen at [email protected].
Scholarships of $5,000, $2,500 and $1,000 will be awarded in each of four categories: 4-H, FFA, Employee and Exhibitor/Participant. The top $5,000 recipient will also receive the coveted $5,000 Spanjian Family Scholarship, for a total $10,000 award.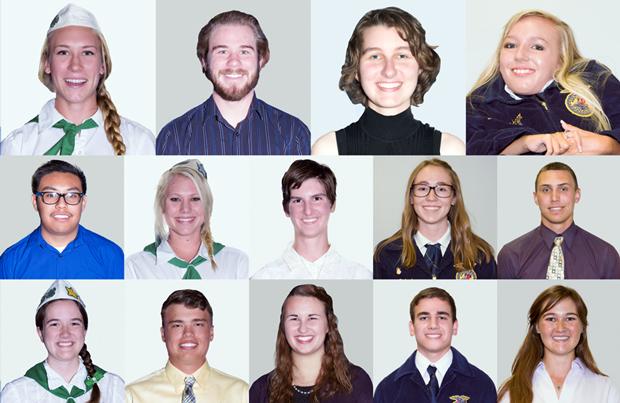 In addition to these scholarships, two $2,500 Vocational Education (Voc Ed) scholarships will be awarded to each of two students who: 1) have participated in the San Diego County Fair and/or other activities associated with the Del Mar Fairgrounds; and 2) intend to pursue a vocational education curriculum at a community college or accredited trade school, with the goal of obtaining an AA/AS degree or certificate. In 2015, Don Diego inaugurated one Voc Ed scholarship. Recipient Matthew Antunez says it will pay for nearly all his costs of attending Palomar College to become an electrician.
Don Diego Board Chair Paul Ecke III states, "As we begin our 30th year, we have much to celebrate. Over the years, we have significantly increased the number and monetary amount of annual scholarships provided to idealistic and ambitious young women and men from an array of backgrounds. Don Diego scholars are currently carving out a national footprint of higher education: from the Pacific to the Atlantic; from Iowa farm country to deep in the heart of Texas; many at prestigious schools such as Stanford and MIT. Past recipients are helping to build a better San Diego, and a better world."
Among those now paying it forward is past recipient, Mary Masch Martineau, Agriculture Teacher at Poway High and Poway FFA Advisor. Martineau recalls, "When I received my $5,000 scholarship award letter in 1999, I cried, knowing I could follow in my family's farming roots and pursue my dream to attend Texas A&M. Today, it's an honor to be an ag teacher and mentor students applying for a Don Diego scholarship."
Success stories like Martineau's abound. Many are highlighted on Don Diego's 30th Anniversary landing page, which also features reflections of recipients and supporters, and fascinating facts about charismatic actor, Tom Hernandez, who made the role of Don Diego come to brilliant life. Ecke encourages people to join the commemoration by supporting Don Diego's namesake organization, saying, "Together, we celebrate three decades of honoring our region's agricultural roots and nurturing future leaders."
The Don Diego Scholarship Foundation was named for Don Diego, AKA Tom Hernandez, who served as the Fair's welcoming goodwill ambassador from 1947-1984. The Foundation has awarded approximately $740,000 to 165 aspiring students since its inception in1986. It also awards grants that support the San Diego County Fair's PlantGrowEat program, which teaches elementary students about agriculture and nutrition in a fun, hands-on way.
Information on Don Diego's rich history (including recollections of 1958's Fairest of the Fair Jo Raquel Tejada, now known as film star Raquel Welch), and the Foundation's current programs and donation opportunities, is at www.dondiegoscholarship.org and www.facebook.com/DonDiegoScholarship.