Caltrans and SANDAG come together in an attempt to further improve North County's transportation.
Story and Photos by: Anne S. Hall
Carlsbad CA— Concerned and motivated residents of North County quickly filled the small meeting room at Carlsbad Senior Center to witness what SANDAG and Caltrans had in store for the I-5/SR-78 interchange. It was standing room only, as photographs and charts were explained to small groups circulating through the space, people immediately opened discussion.
SANDAG took the liberty of sending 20,000 formal invitations to various community members in San Diego County to formally announce the public workshop being held from 5-8 pm on Thursday. Within the first 45 minutes more than 160 community members were in attendance.
Participants were surprised to see that this event was not a formal introduction of plans to alter the structure of the conjoined freeways, but rather, a paneled exhibit of proposed scenarios that the County hopes to begin "visioneering," said Allan Kosup, representative of Caltrans. Interest in presently changing the interchange is considered to officially have begun with this event.
Officials stated that the four proposed scenarios presented throughout the room were all that was available in hopes of creating discussion, establishing feedback, and encouraging opinions by members of the community to help develop the idea of improving the traffic problems that exist within the connections.
Significant delays have existed on interstate 5 and State Route 78 "due to the lack of direct freeway-to-freeway" access at those connections, said Karen Chapman of T.Y. Lin, a transportation infrastructure planning group. To alleviate the problem, officials have presented ideas that include permanently closing-off existing on-ramps and access points in order to drive the commuters to other locations to access the 5 freeway on-ramps. Of these, included the proposal to only close the ramp from Vista Way to 5 North; potentially adding signals and HOV lanes to ramps; closing the Las Flores Drive access, and various other alternatives.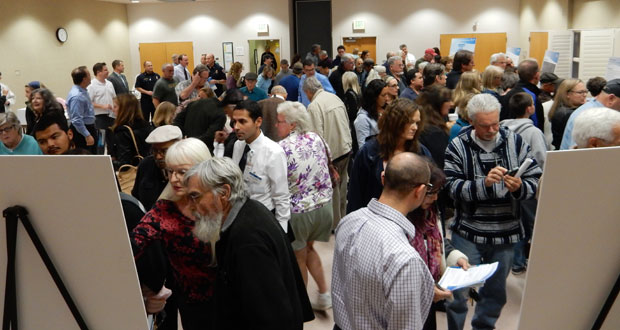 "This is an opportunity to have some place to start from, given four different scenarios. Tonight is just the visioneering process," said Allan. Notice of Intent and Notice of Preparation (NOI/NOP) is anticipated to begin in late spring, as an environmental impact study is projected to begin by late summer.
Members of the community felt a lot of confusion in understanding the current plans presented. Residents are concerned about the many ramp closures through the residence areas, noise pollution caused by the freeway construction, traffic and upcoming railway changes to the Coastal Rail Corridor. Presentations show traffic being directed through school zones. During morning rush hour traffic this would cause even more heavy congestion in the Oceanside area.
"The 5 north to SR-78 is critical in eliminating all the traffic that will develop from California Street. Clover leaves could help eliminate the congestion and prevent traffic in Cassidy and California," said Bud Beech, a long time resident of Oceanside. The two-lane ideas in the presentations "look even tighter than existing lanes. I think building the bridges over the lagoons would help to add space to expand the on and off ramps and prevent congestion," said Beech.
"Streamline transitions between the freeways to get 78 west travelers going in the direction towards 5 south to avoid the Vista Way entrance and go directly south in separate transition lanes," said Tami Boschee, an Escrow consultant from Oceanside.
Other ideas for improvement to the freeway sought to maintain existing ramps at Vista Way, fixing merging problems and reduce traffic weaving and widening areas in order to improve commute time. What was available was a general structure of the basic idea for improvement. SANDAG and Caltrans continues to look for input from the public for any and all ideas and opinions. The next meeting will present the gathered ideas for evaluation and seek further community involvement.
Continued on page 2