Oceanside CA— Firefighters from Oceanside, Vista, Camp Pendleton and North County Fire along with a water tanker from San Marcos Fire were hampered by steep terrain, lack of water supply, poison oak and heavy brush while battling two distinct vegetation fires in Oceanside Sunday afternoon, February 22, 2015. Cal Fire was also dispatched but cancelled en-route.
Firefighters responded to southwest of Loretta St and Hwy 76 at 12:21pm and a second alarm was put out shortly after. "We basically had one alarm for each fire which were about 300-400 feet apart from each other." said Oceanside Battalion Chief Felipe Rodriguez.
"We protected the homes first, that were in the path of one of the fires and then attacked the second one." continued the Chief, "The fires probably burned about an acre between the two of them."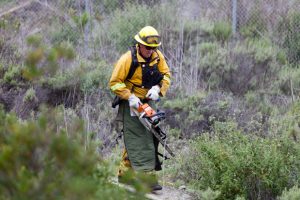 Winds were out of the west at about 10mph hour at the time of the fires raising concerns that the fires would grow quickly.
It took firefighters approximately 30 minutes to extinguish both fires.
There was a fire in the same area, which contains several homeless camps on October 20, 2014.