Oceanside CA— The Oceanside Police Department held their quarterly awards on Wednesday, July 15, 2015 honoring five retirees and recognizing outstanding service by department members during the last quarter.
"This is an opportunity to say good-bye to some of our retirees, welcome some folks aboard the Department and it's an opportunity to recognize some excellent police work that has been done through this last quarter." said Chief Frank McCoy.
With the retirements of the five people, the Department is losing more than 90 years of combined experience.
Laura Flynn

Laura Flynn retired after almost 15 years of distinguished service as a police officer with OPD. Laura began her diverse career in 2000 as a uniformed patrol officer. She was then assigned as a School Resource Officer for two years. From there she worked on the Neighborhood Policing team before returning to patrol as a training officer. During her career Laura received numerous commendations from the community, supervisor and her peers. She received six Team of the Quarter selections, two Member of the Quarter selections and the Daniel Bessant Community Policing Award. Laura also volunteered in numerous programs including the Shop with a Cop and Teddy Bear Drive. Laura retired in May 2015.
---
Kathryn Held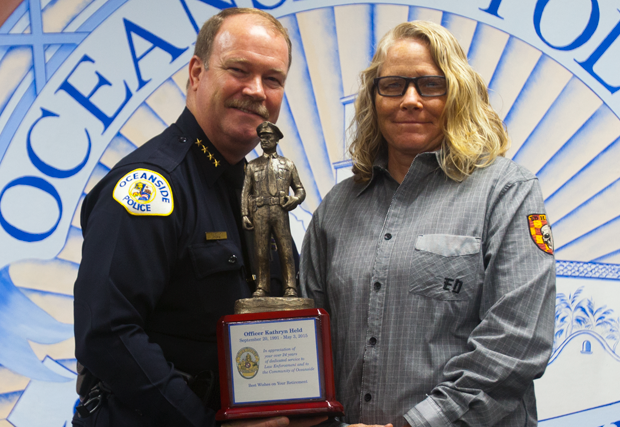 Kathryn Held began her career in 1991 as a police recruit then a patrol officer. From patrol, she was then assigned to the Neighborhood Enhancement Team which at the time was called 'Network'. There she served as a liaison to the neighborhood while combating gang activity. She is one of the few officers promoted to the rank of Corporal. In 2002 she was assigned to the position of 'Neighborhood Corporal' the precursor to the current Neighborhood Policing Team. She was then assigned to the Special Enforcement Section where she established herself as an expert in street gangs, narcotics and vice investigations. In 2007 she returned to field operations and was assigned to the Neighborhood Policing Team. Kathryn's focus was "the enhancement of the quality of life of not just individuals but the greater community." Kathryn was selected as the Departments first Multi-Discipline Instructor Program coordinator.
Continued on Page 2