Oceanside CA— Mission Avenue was closed between Rancho Del Oro and the rear parking lot entrance to Old Grove Market Place while Oceanside Police investigated a fatal collision which occurred near the intersection of Academy Rd and Mission. Police and fire were dispatched to the incident at 7:38 Thursday night, September 17, 2015.
One person was declared deceased at the scene. She has been identified by the San Diego County Coroner's office as Mary Ellen Pengelly, 81, of Oceanside. Several others were transported by ground ambulance to Scripps La Jolla. "They were transported, with minor injuries to La Jolla because Tri City Hospital and Scripps Encinitas are in Saturation mode." said Oceanside Battalion Chief Greg De Avila.
The collision occurred as the Nissan was southbound Academy St and approaching Mission Ave. The Chevrolet was traveling westbound Mission and as it neared Academy St the driver noticed the Nissan creeping forward. The driver did not anticipate the Nissan pulling forward, however as he neared the Nissan it suddenly pulled into the path of the Chevrolet. The driver was unable to take evasive action and broadsided the Nissan.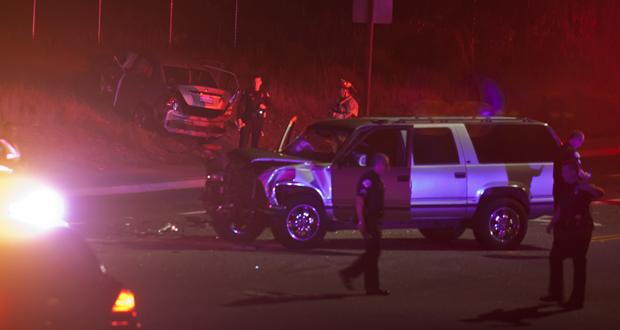 The investigation is ongoing. The Oceanside Police Department's Major Accident Investigation Team is conducting the investigation. Anyone with information regarding this collision is asked to call Accident Investigator Gabe Cobian at (760) 435-4989