Oceanside CA— A symbolic groundbreaking ceremony was held, on Wednesday, at Oceanside Fire Station # 7, one of five locations where construction is set to begin immediately on energy cost saving solar projects.
The projects, a joint venture of the City of Oceanside and PFMG Solar, LLC , include the construction of parking canopies, elevated shade structures and roof mounted systems.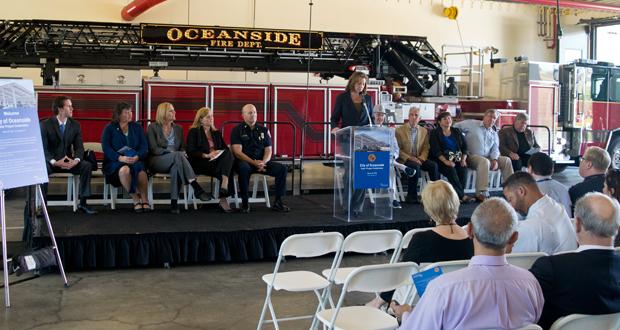 Cari Dale, the City of Oceanside Water Utilities Director, who had just arrived back in Oceanside after attending the White House Water Summit, in Washington D.C. said "The five projects will provide countless benefits to the residents of the city Oceanside for the next 25 years."
Along with Fire Station 7, solar panels will be installed at Oceanside Police Headquarters, City Operations Center, Melba Bishop Recreation Center and the El Corazon Senior Center.
Oceanside's latest "Green Project" will help the City save an estimated $8 Million over the next 25 years. The total estimated 25 year solar energy production is over 1,450,295 kWh, which is equivalent to:
Reducing 478 tons of carbon dioxide emissions annually
Planting approximately 725 trees
Taking 85 cars off the road for an entire year
Providing electricity use for over 163 home for an entire year
Oceanside Mayor Jim Wood said "This project is part of the new world and certainly part of the new world for the State of California. All of the things we are doing to save money, like solar energy, we know we are moving in the right direction."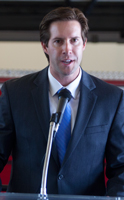 "I've had a chance to work with the Parks and Recreation Department, the Police Department, the Water Department. Everyone at the city has been a joy to work with." said Michael Beverly with PFMG Solar "Everyone has been very supportive of this project." continued Mr. Beverly "One of the reasons PFMG Solar has been so successful is we are a southern California company. We know what it's like to live here. We understand the lifestyle we choose to live here faces challenges. No city in the state understands the challenges better than Oceanside. At a time of rising electricity rates, drought and tightened budgets, it's becoming critical that our leaders make decisions that are both environmentally and financially sustainable. What's exciting is the project we have here today is a perfect example of what that decision making and that leadership looks like in action."
The project was approved by the City Council in August of 2015 "We have our photos taken and get to sit on stage but none of this would happen if it wasn't for the hard work of the city staff and people like Michelle Lawrence, City Manager, Cari Dale and Mo Lahsaie, the Environmental Officer with the City of Oceanside. They are the ones that really deserve the credit." said Oceanside City Council-member Jack Feller, after the ceremony.