Oceanside CA— Officers from the California Highway Patrol (CHP), Oceanside Police Department (OPD) and the Oceanside Fire Department (OFD) brought the 'Every Fifteen Minutes' program to students of Mission Vista High School (MVHS), Tuesday morning.
The program, funded by the California Office of Traffic Safety, is a mock, fatal, DUI collision involving students. "The program was started by the Chico Police Department in 1995 and the CHP took it over in 2000" said Hope Maxson, CHP Information Officer with the San Diego office.
The dramatic program begins with a simulated 9-1-1 call to a dispatcher speaking with one of the victims in the two vehicle crash. The emotional and distressing call is broadcast over the school PA system prior to MVHS students, in class, being ushered to the site of the simulation.
Police officers and firefighters, wearing microphones, roll up to the realistic scene and begin to assess the situation all while students were able to hear, first hand, the conversations of the firefighters with the patients and law enforcement with the DUI suspect.
More than a few tears were seen as the simulation progressed through the initial assessment, the arrest of one driver, the airlifting, by CHP helicopter, of a paralyzed female passenger and concluding with the body of a young teen drivers' body being identified by the parents and loaded into the back of a coroners van.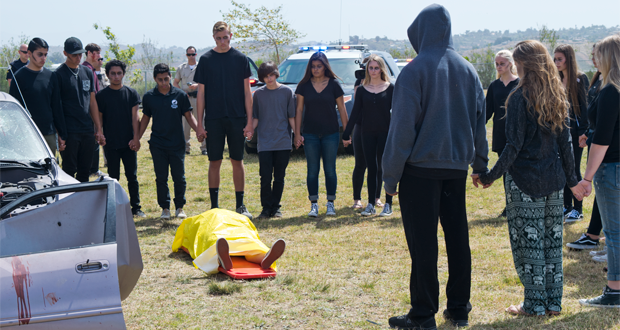 The program, aimed at high school juniors and seniors, is designed to remind students of the zero tolerance law for under-age drinking and driving, the consequences of poor choices, not just for themselves, and how their actions affect the lives of so many other people.
This was the first ever 'Every 15 minutes' program at Mission Vista "I think it was very successful." said Gillian Leibelt, a senior at MVHS in charge of the students participating in the event, "The students have become just these glowing beacons of light advocating not just the prevention of drunk driving but the way you treat and care for other people in everyday life."
The student participants had to go through a lengthy interview process before being chosen for the event. "They have all really bonded through this experience" said Gillian.
"This is really going to have a lasting impact." said Patti Cipants, "Something so visual instead of just statistics. This is real life."
The program will be repeated on Wednesday, at the school, for a second set of juniors and seniors.
Click on any image to enlarge photo and begin slideshow. Photos may take a moment to load fully due to file size
Photos: Steve Marcotte/OsideNews