Large Turnout for 'Animal Kingdom' Open Casting Call in Oceanside
Oceanside CA— The producers of the Showtime hit 'Shameless' and Central Casting put out an open casting call, in Oceanside, for extras in the upcoming TV show 'Animal Kingdom' and they were not disappointed by the turnout. The line of people, hoping to get a shot at being an extra, stretched around the block at Civic Center Plaza as auditions were being held in the Oceanside Library Community rooms.
"We originally said on our press release that our cutoff time would be 3:00. Obviously we are going to be here a lot longer than that." said Josh Engler with Central Casting in Los Angeles. "Our goal is to get as many people through as we can."
Josh, who was coordinating the open casting call,  said they process the people as quickly as they can but, "The paperwork can be laborious and we need to make sure everything is right."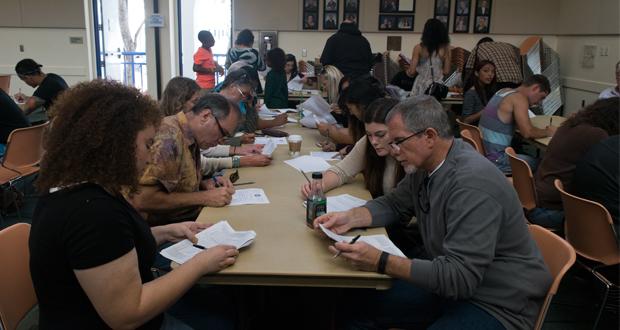 Central Casting is hoping to hire 500 people as extras for the new series based on the 2010 Australian drama, 'Animal Kingdom'.
"Our job is just finding the best Oceanside people we can." explained Josh "If production is happy, the better the shots in Oceanside turnout. In terms of chain reactions, when I see a turnout like this, I know that everything is going to go great and Animal Kingdom is going to be exceptional."
The show will center around a 17-year-old boy who moves in with his grandmother and uncles, in their Southern California beach town, after his mother over doses. John Wells will direct the show featuring Ellen Barkin, Scott Speedman, and Shawn Hatosy and is set to premiere, June 7, 2016 on TNT.


"I've done this before with 'Background San Diego'." said Ken Fetzer, of Vista who was waiting closer to the end of the line than the beginning for his audition. "It's a lot of fun being an extra. You get free food and you get paid. Anytime you can do something you love and get paid for it, well, you do it. I would do this for free."
Oceanside resident Cindy Pietronico, said she was looking into being a background actor in Los Angeles. "It is just so far to travel and then this came along."
"I thought it would be a fun thing to do. A new experience" said Herb Veglahn also of Oceanside. Cindy and Herb arrived at the library about an hour prior to the start of the open call and were near the front of the line.
The actual filming of Animal Kingdom will take place in Oceanside April 19-22 and again June 14-18.