Local Wide Web: www.keep760.org
714 … 619 … 760 … 858 … 442 was enough.
After living and working along the North Coast practically his entire life — and having seen a fair share of area code changes in the past decade or so — Scott Chatfield realized it was time say "enough" to yet another split in 2008.
In creating www.keep760.org as a way to protest the California Public Utilities Commission's plan to split 760 and introduce 442 to North County, Chatfield learned firsthand the power the Internet can hold at the local level.
"I consider myself pretty informed and pretty plugged in. I subscribe to a couple of newspapers, a lot of magazines, check the Internet. So I was mildly dumbfounded when I discovered that the CPUC had mandated this 442 area code change and I hadn't heard about it until after the fact," Chatfield recalled recently. "It occurred to me that maybe other people felt the same way. So I decided to create this website to sort of serve as a catalyst in case other people wanted to express themselves in the same way. … As it turned out, thousands of people felt similarly and responded in kind."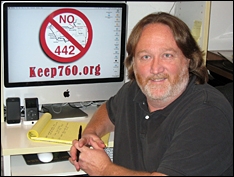 The push that www.keep760.org started eventually helped lead to a compromise last Oct. 16 that kept 760 while overlaying a new 442 area code. An area code overlay, Chatfield explained, can help reduce the costs and confusion often associated with area code changes, from businesses that need new signs and stationary to customers who have to remember an additional number.
"It is kind of a drag in that we'll have to be dialing 10 or 11 digits from now on, but to me it's infinitely preferable to having to change the area code and all the attendant advertising and the stuff that goes along with it," he noted.
Chatfield said he initially thought of the website as a form letter asking elected representatives to take on the fight because he wasn't sure how the politics of CPUC worked.
"My analogy was I was thinking about Luke Skywalker having one shot to blow up the Death Star, so I was thinking I don't want to blow that shot," Chatfield said.
Assemblyman Martin Garrick (R-Solana Beach) took up the fight, Chatfield said, and played a large part in convincing the CPUC to go with an overlay rather than a full new area code for the region. The fight wasn't without its setbacks. The CPUC initially voted against the overlay plan until it reversed that position in October.
While Chatfield — who co-owns the Exowax record label, has worked in radio and currently teaches at San Diego City College — has been involved in community issues in the past through groups such as the Environmental Health Coalition, his experience with www.keep760.org was unexpected in some ways.
"I've done websites and hosted websites before, so I'm fairly comfortable with that," he explained. "I spent several years in radio and right now I run a record company, and I've lived in Leucadia since I was 3 years old. … I'm very attached to the area."
What was unexpected, however, was the realization that such a grassroots effort might not have taken off had it not been for the Internet's presence.
"This is an opportunity that we never would have had 10 or 15 years ago," Chatfield said, "and I am being categorized as a community organizer, but basically most of the work I did took place in a 20-foot-by-20-foot environment which was my office."
The success of the www.keep760.org campaign also highlighted just how important the traditional media are, he noted.
"The North County Times actually did a pretty good job talking about it, and that's what really made it take off," he said, also noting coverage in other print news publications such as The San Diego Union-Tribune. "This would not have succeeded had it not been for the help of the traditional press."
Editor's note: This story is the first in an occasional series of profiles highlighting the "Local Wide Web" of coastal North San Diego County. If you have a suggested website for the North Coast Current to profile, e-mail [email protected].