Escondido launches process to draw City Council districts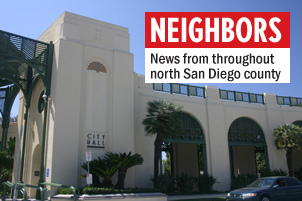 Alex Groves
August 2, 2013
Hang on for a minute...we're trying to find some more stories you might like.

July 29 marked the first day in the beginning of a districting process for the city of Escondido as a council of seven people was sworn in at the Mitchell Room of Escondido's City Hall building to discuss demographic analysis, meeting dates and outreach.
Escondido made the decision to create City Council districts in order to meet the terms of a lawsuit settlement. The lawsuit – filed by a group of five in 2011 – was filed under California's Voting Rights Act, which gives increased power to minorities who believe their votes are being diluted. This was of particular concern among some residents in Escondido, where close to half the population is Latino but only one City Council member in the current group of five identifies as Latino.
Rather than fight what could have become a costly lawsuit, the city agreed to create districts. There will be four districts created by the team of seven. Each of the districts will select a candidate who will become one of the City Council members. The election for the mayoral candidate will still be citywide.
Elections for City Council under the new districts will take place on Nov. 4, 2014.
The team of seven was appointed by three retired Superior Court judges. Three of the seven are white, while the other four are Latino.
The members of the committee are:
Dana Nuesca, the executive director of Seeds of Hope, a San Diego County rehabilitation center for sexually exploited and trafficked children;
Roberto Ramirez, president of Mountain Meadow Mushroom Farms and a local entrepreneur. Ramirez holds a master's degree from San Diego State University;
William Flores, a retired San Diego County assistant sheriff;
Jack Anderson, a retired Escondido deputy city manager;
Andy Carey, executive director of the US-Mexico Border Philanthropy Partnership;
Doris Cruz, an employee of a loan service corporation. Cruz holds a bachelor's degree in gender and multicultural studies from California State University, Chico;
John Valdez, a Chicano Studies professor at Palomar College.
The composition of the Independent Districting Commission has sparked both the ire and support of Escondido residents and political activists, with some backing the decision and others puzzled by it.
Community activists such as Pat Mues of Escondido's Future and Escondido 2014 say the commission brings fresh energy and a chance to shake up politics for the better in Escondido.
Mues has supported the commission's appointments, calling comments that the appointment process was "ridiculous gerrymandering," "white flight" and "inexorable reconquista" either biased or ignorant.
She said the City Council's limited ability to affect decisions made by the commission will allow the group to do the job it needs to do.
And if the districting process changes the composition of the City Council after 2014, that's something Mues said she'll be in favor of.
"I think the only thing that is going to change those activities that those of us feel are not in the best interest of the community in general and in the Latino (community) in particular is if there is a totally different council majority," Mues said.
City Council members did not respond to requests for comment for this story about their role in the districting process.
The commission was sworn in at about 4:30 p.m. July 29, and within a few minutes elected Nuesca as chair and Valdez as vice chair.
Following the appointments of chair and vice chair, City Clerk Diane Halverson and Deputy City Attorney Allegra Frost led a presentation on the requirements the commission would have to meet during the districting process.
Most notably, the commission will have to hold a series of six public hearings where residents can make comments on the drawing of district lines. The meetings must take place within geographically diverse areas of the city and be concluded by Dec. 15 or 150 days after the commission's appointment. The commission must also have a budget, which includes an expert consultant, by this time.
Once the preliminary districting plan has been completed, a series of three additional public hearings will need to take place in geographically diverse areas of the city.
A major source of contention during the July 29 discussions was the city attorney's recommendation of National Demographics Corporation as a districting consultant.
Before NDC's president conducted a presentation, Escondido resident Robroy Fawcett offered to conduct the city's consulting for free during a three-minute presentation. Fawcett criticized NDC's method of collecting data and said the program utilized by the company creates a black box where important data should be. He also said his budget was $0 for consulting versus what he claimed was NDC's budget of $32,000.
In April, Fawcett and his wife, Jane Fawcett, raised objections to the lawsuit settlement, saying it didn't clearly define the term Latino.
NDC President Douglas Johnson conducted a presentation describing the work his company would do and the requirements it would meet per the consent decree laid out by the city.
Johnson also disputed Fawcett's claim that NDC's program created a black box where data should be, saying transparency is one of NDC's objectives.
Johnson said NDC was eager to work with the commission and provide it with a variety of options for how it might execute a districting plan.
"Your consultant should be ready to show you the options," he said. "We won't make any decisions for you. It should be very clear where our role ends and yours begins."
However, some commissioners were uncomfortable that they didn't have a choice between NDC and another firm.
"It's not going to hurt to hear from another company," Commissioner William Flores said. "I don't think we're under a time constraint."
Flores went on to say that though he was impressed with Johnson's references and presentation, the commission should be able to consider other options. He suggested interviewing another consulting company within the coming weeks on either Aug. 5 or 12.
Commissioner Jack Anderson said he feared tabling the decision to hire a consultant might result in a longer time to create districts, which might cut into the time people would have to run as City Council candidates.
"Where I come from is the perspective that the sooner we get this done, the sooner we can give people the opportunity to run for office," Anderson said.
City Attorney Jeffrey R. Epp echoed Anderson's sentiment, saying it might be difficult to even get another consulting firm to arrive on such short notice.
"These guys are not a dime a dozen," Epp said. "There are not many firms with a municipal background that do this."
The commission opted to table the decision and interview another consulting firm on Aug. 5.
Alex Groves is a freelance writer in the region