OCEANSIDE: Historic Star Theatre unveils restored marquee July 3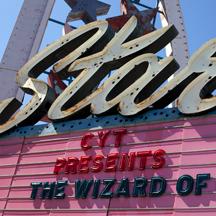 OCEANSIDE — The Historic Star Theatre invites the public to celebrate the unveiling of the venue's restored neon marquee July 3 at 7 p.m. The sign is the largest neon marquee west of the Mississippi River and one of the largest neon marquees in operation in the United States, the theater company said in an announcement. The dedication ceremony will take place as part of the Oceanside Art Walk. The evening will include an art exhibit in the theater, a musical performance, refreshments and entertainment by the Star Theatre's '50s-'60s band, "Not Fade Away." The restoration has been years in the making since The Poinsettia Center for the Arts purchased the venue in 2000. The theater was built in 1956. Address: 402 North Coast Highway in Oceanside. More information: 760-721-9983. Online: www.startheatreco.com.
The North Coast Current welcomes your community news. Submit upcoming event announcements to currentevents@northcoastcurrent.com. Submit stories and photos to news@northcoastcurrent.com.