It wouldn't be the holidays without: Tradition began with San Marcos native
Editor's note: With the holiday season in mind, the North Coast Current revisits this story from its archive, first published in November 2008.
Is it stuffing or is it dressing?
"There's really no difference," says Leo Pearlstein, Mrs. Cubbison's PR man since 1948. A personal friend of San Marcos legend Sophie Cubbison, Pearlstein watched as this inventive entrepreneur used her passion for health food to become a national icon.
"I was a youngster when I got her account," remembers Pearlstein, who was working for the California Turkey Promotion advisory board at the time. "We were doing PR and I was looking for any opportunity I could to talk about turkey. So I saw an ad in the paper, maybe a 2-inch ad. It said, 'Turkey tastes great with Mrs. Cubbison's dressing.' Other ads followed 'Ham tastes great', chicken, fish. I thought it was very clever."
Pearlstein saw a natural match between the two and visited Cubbison's bakery on Pasadena Avenue in Los Angeles. He asked if she'd like to work together, "… and we lasted forever. I'm still with the company, still doing PR," Pearlstein said. "She was a great lady and she told me a lot. She would often tell me about her ranch down in San Marcos."
Cubbison grew up on a Spanish land grant in San Marcos, where she combined knowledge from her mother's Mexican heritage with her father's know-how as a master baker (from Germany) to cook for about 40 workers on her parents' lima bean ranch.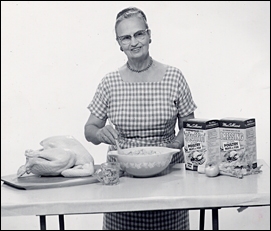 Sophie, 16 at the time, worked the same long hours as the laborers (5 a.m.-8:30 p.m.), providing them with five meals a day (breakfast, snack, lunch, snack, dinner).
"They didn't have any modern equipment in those days. They didn't have electric mixers," Pearlstein chuckled, "but they had pots and pans."
Sophie was already used to hard work when she left the ranch to attend California Polytechnic in San Luis Obispo, where she graduated with a home economics degree in 1912 and pursued her passion for health food.
"When she got out of college, she and her husband, Harry Cubbison, who was a salesman, got married in San Marcos (1916) and they borrowed $300 to open up a little bakery in San Diego County." The Cubbisons officially started their baking business, but it was necessity that drove the couple since both Harry and Sophie had invalid parents to care for.
After selling the bakery in 1925, they moved to Los Angeles to open another. This time. the bakery was accompanied by a health food store alongside. "She made whole wheat crackers, which nobody made, and she made Melba toast out of soy flour (now acknowledged as a pioneer of soy in American diets)," he noted.
"When she made the Melba toast, a lot of the times the toast would break," added Pearlstein. "Being an entrepreneur, she didn't want to waste the bread, so she tried to think what she could do with the broken pieces."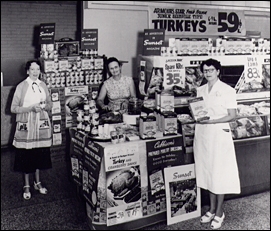 Enter Mrs. Cubbison's dressing. After years of testing recipes in her own kitchen, she introduced the new product to the market, but her entrepreneurial skills didn't stop at the stove. Sophie approached top grocery competitors and friends, Walter Ralphs (Ralphs supermarkets) and Ted Von der Ahe (Vons supermarkets) about selling her dressing by giving them a face-to-face demonstration. This hands-on approach was enough to convince both men to stock their shelves with Mrs. Cubbison's.
She would say, "You can't sell stuffing by itself. You have to sell the whole meal." Sophie devoted herself to supermarket demos and television appearances, illustrating the ease in which her product could be incorporated into any entree.
"She was so dedicated to it," Pearlstein said. Even after retirement, Sophie stayed involved. "She spent her whole life working and wanted to travel. She toured Europe and South America, but would always come home during holiday time and walk the stores to see that they had her stuffing in."
Holidays had always been important to Sophie because it meant family, especially Thanksgiving. "Thanksgiving was the holiday of the year. It was a big deal for her. Of course, making that stuffing sort of added to the whole thing."
Sophie Cubbison died in 1982 at the age of 92. Her legacy continues through her variety of products (now owned by Interstate baking Corp.) and her generous contribution to California Polytechnic "to perpetuate food and nutrition."
---
Lauren Ciallella is a San Diego freelance writer.
encinitas current, cardiff current