San Marcos Creek project
on track for 2023 completion
Bridges take shape; construction market poses challenge
The San Marcos Creek Project, which has been in the works for several years, is scheduled to be completed by spring 2023.
As part of the project, the city will build two bridges (one for Bent Avenue and one for Via Vera Cruz), widen Discovery Avenue to four lanes and make a new park.
The park will be called Paseo del Arroyo Park, which means "Creek Walk" in Spanish, and will include trails and views of the creek area.
"The overall goal of the project is to alleviate flooding in the area with the levy and the bridges during rain events, to protect property to the south," said Lewis Clapp, the city's principal engineer.
Clapp said that the foundation of the Bent Avenue bridge is nearly completed and that the bridge should be finished by the end of 2021. After the Bent Avenue bridge is done, crews will start to work on the Via Vera Cruz bridge, Paseo del Arroyo Park and Discovery Avenue.

In addition to the goal of reducing flooding, the project will help protect the natural habitat of the creek.
"The final phase or major component of the project is the habitat restoration," Clapp said. "So all along that creek bed, what we disturbed … (we will do) planting and restoration of the habitat along that creek bed."
"We removed a lot of invasive species from the creek, and so we're looking to restore that and make it a conservation area for the city, for open spaces," he added.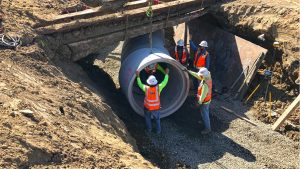 According to Clapp, the project has faced some challenges during COVID-19, mostly related to acquiring building materials.
"The lead times on some of the equipment … have changed," he said. "We're waiting longer times than normal to get in those materials. And just recently, (there has been) the escalation of price on some of those materials."
Clapp said that due to the higher prices, the project's materials expense is two or three times higher than was expected, meaning the city will have to tap into contingencies that were built into the budget.
For more information and latest updates on the project, visit www.san-marcos.net/creek.
encinitas current, cardiff current