OCEANSIDE: 'Shinpei Takeda: Limits
of Your Safe Space' at Museum of Art
OCEANSIDE — "Shinpei Takeda: Limits of Your Safe Space," an exhibition that explores the concept of what a "safe space" means, runs now through Sept. 10 at the Oceanside Museum of Art as part of its 25th anniversary.
The exhibit explores the idea of what a "safe space" means to different people, as expressed by five individuals impacted by issues such as immigration, forced displacement, and active combat. "Shinpei Takeda: Limits of Your Safe Space" is experienced through a mixed reality environment, powered by elements of physical reality, augmented reality and virtual reality. Visitors to the museum will be invited to interact with the installation using their mobile devices, along with virtual reality headsets prompting conversations about safe space in our society and in the emerging virtual spaces.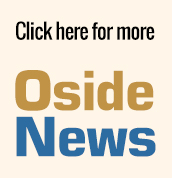 Throughout fall 2021, artist Shinpei Takeda guided a series of virtual reality workshops with selected participants who identified as immigrants, refugees and veterans as they shared stories about how their physical, social and psychological spaces have been impacted by their experiences. Participants worked with Takeda collaboratively to envision, design and create an expression of their safe spaces within the virtual environment. Takeda currently resides in Tijuana and his experiences with cross-border relationships has inspired not only this installation but works from throughout his career.
More information is available online: oma-online.org.
---
The North Coast Current welcomes your community news. Submit upcoming event announcements to currentevents[at]northcoastcurrent.com. Submit stories and photos to news[at]northcoastcurrent.com.