MiraCosta College administrator
is Rep. Levin's Constituent of the Month
A MiraCosta College administrator is U.S. Rep. Mike Levin's February Constituent of the Month, the congressman's office announced Tuesday, Feb. 28.
Wendy Stewart, the Oceanside-based college's dean of counseling and student development, is a longtime educator in the San Diego region. Levin (D-49th District) created the Constituent of the Month program to recognize noteworthy residents of North County San Diego and South Orange County, the areas that his district represents.
In his announcement, Levin noted Stewart's additional position — the college's first chief inclusion, diversity, equity and accessibility officer, according to a news release from Levin's office.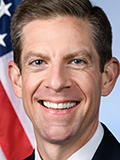 "Dr. Stewart serves as the inaugural interim Chief Inclusion, Diversity, Equity, and Accessibility Officer at MiraCosta College where she has worked for more than a decade including her previous role at the college as Dean of Counseling and Student Development," Levin said in the announcement. "She has spent over 25 years in education, helping to better the lives of students throughout the San Diego region."
Before joining MiraCosta College, Stewart was an academic counselor at UC San Diego, Transfer Center director at San Diego Miramar College, and the dean of Counseling and Enrollment Services at Grossmont College. She has published research in the areas of service learning and diversity courses, according to MiraCosta College.
"Throughout her career, Dr. Stewart has been a fierce student advocate who has helped students access higher education and achieve their goals," Levin stated. "Dr. Stewart is a shining example of what an educator should be — kind, dedicated, and passionate — and our region is better for it.
"As we conclude Black History Month, I am especially proud to honor Dr. Stewart, an esteemed educator who uses her decades of experience and knowledge to contribute to our unique and beautiful district," Levin stated. "Her story, passion to improve the lives of others, and academic achievements are honorable and that is why I am proud to honor Dr. Stewart as my February Constituent of the Month."
The MiraCosta Community College District's main campus is located in Oceanside, with a satellite campus in Encinitas and other centers in Carlsbad and Oceanside.
Levin invites the community to nominate residents of the 49th District to be the Constituent of the Month. Those interested in doing so can submit nominations using this form: levin.house.gov/services/constituent-month.

---