Growing CSUSM campus enters its 20s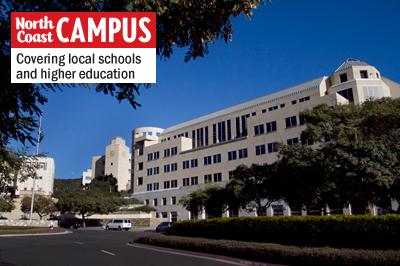 At the time of its creation in 1989, CSU San Marcos was the first comprehensive university to be built in the nation in more than 20 years. It couldn't have come soon enough for many North County community members, who had felt that a university was sorely needed for students in their area for a long time.
The actual history behind the campus itself – which just reached its 20s last year – goes back far longer than just 20 years.
Community members had been lobbying their local representatives to divert funds for the creation of a university in the region as far back as the 1960s.
It wouldn't be until two decades later that San Diego State University would start a North County satellite campus using $250,000 in start-up money.
The student population of the satellite university would quickly grow through the 1980s and would eventually require that SDSU North County change location at least once more before the purchase of a permanent university site.
In the 20 years that have followed since the opening of the university's campus in 1992, CSU San Marcos has been in a constant state of expansion and change to meet the needs of a growing student population.
That's a mission that the institution has valued since its founding, according to Patty Seleski, the associate dean of the College of Humanities, Arts and Social Sciences.
"From the very beginning, we had students who were adventurers and faculty that were pioneers that wanted to build a campus that would be respondent to the needs of North County," Seleski said.
Seleski has worked at CSUSM since it operated from its original business park location, and said that she has seen a wide variety of changes take place over the years that she's worked there.
"It's never been boring," she said. "The campus is different every year because we've grown, and we've gotten more students. I was here when we had only 450 students or thereabouts, and now we have 10,000."
With the help of community donations and revenue garnered from an influx of new students, the campus has been able to add new infrastructure and programs.
In 2003, for example, apartments were added to the school, allowing students to live on campus for the first time.
Buildings such as the McMahan House – a special-event and conference facility – and a flagship Social and Behavioral Sciences Building were added in 2009.
Most recently, a new parking structure was added in 2011 to accommodate students.
It isn't just the face of the campus that's changing. The programs offered at CSU San Marcos have been reorganized to better serve students, as well. New colleges include the College of Humanities, Arts and Social Sciences; College of Science and Mathematics; and a College of Education, Health and Human Services.
The increased number of programs and infrastructure are an indication that CSU San Marcos is starting to become an important place in North County, according to Public Information Officer Margaret Lutz-Chantung.
"The first parking structure is almost like the first traffic light in a small town," Lutz-Chantung said. "It kind of signifies that you are a place where people come, which is kind of a big deal."
What's planned for the future?
The parking structure is just one small part of the overall evolution of CSU San Marcos as a campus, according to Lutz-Chantung. She said that other projects will come to change the image of the campus from a commuter school to a place where students come to enjoy themselves.
Currently, the campus is in the process of building a $43.9 million University Student Union, which will have meeting rooms for campus clubs and organizations. It will also have lounges and places for students to grab a bite to eat.
"I think the student union will change the landscape (of the campus), not just physically but in terms of student organizations and students having a place to call home when they're on campus," she said.
A new $9.5 million health center will also be available to students and will be in place sometime within the coming year, according to Lutz-Chantung.
In the years that follow, CSUSM will continue to be a force in the region, Seleski said.
"I think that in the state of California, the desire for higher education is not going to lessen anytime soon," she said. "Obviously, whether or not we're going to (continue to) grow and add more buildings is dependent upon much more than just our desire to do it, but we could be a very large campus. … I think we will continue to meet the needs of the region."
A committed group of faculty and staff will continue to be an integral part of the school's success, Seleski said.
"One of our key aspects on the campus is a faculty that is sensitive to student demand and very committed to help students meet challenges as they change and develop over time," she said. "Right now, the challenges we are talking about are of this moment, but 20 years from now, they might be very different. We hired a faculty that is inspired by challenges and excited by change."
Alex Groves is a freelance writer in the region