New Vista parks director
on the job starting this month
Mike Pacheco brings experience from Carlsbad, Encinitas
The city of Vista's new Recreation and Community Services director brings experience to the job from Carlsbad and Encinitas.
Mike Pacheco, who started with Vista on May 16, previously served as Carlsbad's recreation services manager for six years. He was a recreation supervisor with the city of Encinitas From 2001 to 2006.
"I was extremely impressed with Mike's depth and knowledge. He brings a wealth of experience in the field of parks and recreation that matches the needs of our organization," Vista City Manager Patrick Johnson said in a news release. "His enthusiasm, drive, and experience are what the city needs to elevate and lead our Recreation and Community Services Department after two years of limited services due to the pandemic. With his broad skill base and experience, he will be a vital member of the leadership team in helping the city meet the needs of the community now and into the future. We are fortunate and excited to have him join the team."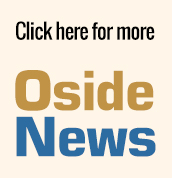 As Vista's recreation and community services director, Pacheco will oversee programs and services that support areas such as health and fitness, seniors and community services, and other recreational opportunities, according to the city's announcement.
Pacheco's more than 25 years of experience in local government includes serving as community services manager for La Mesa and a senior recreation supervisor for Poway.
"I am thrilled about this opportunity to lead the recreation and community services department," Pacheco said in Vista's news release. "I have admired the department's excellent reputation over the years, and have a strong, positive working relationship with many of the team members due to the professional ties between the neighboring cities. I am looking forward to working with the team in helping move Vista forward on its path to excellence in the community. Parks and recreation enhance quality of life and help build strong communities and I've always been passionate about parks and recreation. It's impressive that Vista has everything in its own backyard, all of which I am familiar with: a waterpark, award-winning Amphitheatre, recreational opportunities, and many beautiful parks and trails."
Pacheco holds a bachelor's degree in criminology and communications from the University of New Mexico and is a Certified Park and Recreation Professional. He lives in North County with his wife and two sons.
---
OsideNews is an Oceanside news site affiliated with the North Coast Current.