Interim chief named
for Vista Fire Department

Vista has an interim leader for the Fire Department in wake of the chief's retirement in late 2022.
Roy Palmer was appointed acting fire chief effective Jan. 17.
Palmer replaces former Chief Ned Vander Pol, who retired Nov. 2, shortly after Vista's city manager resigned when the City Council enacted a change to hiring procedures in the city code.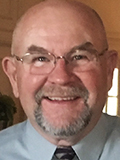 Palmer's firefighting experience dates back to 1973 in Oregon, according to a Vista city news release. He rose through the ranks in Oregon to serve as fire chief of Polk County Fire District #1, in Monmouth, Oregon, after which he retired in 2001.
Post-retirement, Palmer served as a consultant and interim chief for several organizations.

---